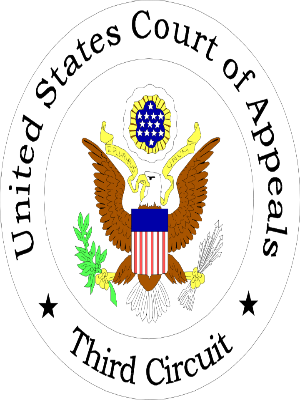 U.S. Court of Appeals for the Third Circuit
PHILADELPHIA – The U.S. Court of Appeals for the Third Circuit recently affirmed a federal court decision granting habeas corpus relief to an inmate serving a life sentence in a Pennsylvania prison for a fatal armed robbery.
Judges Theodore A. McKee, Thomas L. Ambro and Thomas M. Hardiman ruled in line with the U.S. District Court for the Middle District of Pennsylvania, which decided to grant habeas corpus to Tyrone Moore based on his counsel's perceived underperformance prejudicing his guilt in the eyes of the jury.
Moore is currently sentenced to life imprisonment for the Oct. 1, 1982, armed robbery of the Forty-Fort Animal Hospital in Luzerne County, which resulted in the death of Nicholas Romanchick. Evidence from a related bank robbery led to the arrest of four suspects: Moore, Kenneth McGoy, Anthony Brad Jones and Ricardo Scott.
Scott cut a plea bargain deal and testified against Moore for the prosecution. In his testimony, Scott said he had given his gun to Moore and accused him of firing the shot that killed Romanchick. Notably, Moore's then-counsel, Joseph Yeager and Patrick Flannery, did not cross-examine Scott about the benefits or his plea agreement, or call Jones as an exculpatory witness.
Though Moore presented an alibi defense and said he wasn't present on the night of the robbery, the jury did not believe him – they found him guilty and sentenced him to death, a sentence later commuted to life imprisonment. Moore's post-trial motion and direct appeal claiming deficient counsel representation proved ineffective.
Moore later petitioned for habeas corpus relief to the trial court and was denied, a verdict reversed by the Third Circuit later. The Third Circuit found Moore's counsel was ineffective in not impeaching Scott as a witness due to his plea agreement and in not investigating or calling Jones as an exculpatory witness. This rationale also later convinced the trial court, at an evidentiary hearing, to decide Moore was "thoroughly entitled" to habeas corpus relief.
In order to show ineffective assistance of counsel, Moore must prove "(1) That his trial counsel's performance was 'deficient, that is, it fell below an objective standard of reasonableness,' and (2) 'That counsel's deficient performance prejudiced' him, i.e., that 'there is a reasonable probability that, but for counsel's unprofessional errors, the result of the proceeding would have been different."
In contrast, the Commonwealth argues there was no evidence before the trial court to support a finding that Moore's counsel was ineffective for "(1) Failing to cross-examine Scott adequately about the benefits he received in exchange for his testimony and (2) Failing to investigate and present adequately Jones as an exculpatory witness.
It was a rationale the Third Circuit did not concur with.
"We disagree," Ambro said. "There was a sufficient evidentiary basis for the District Court to find that Moore's counsel acted unreasonably and that their deficient performance prejudiced Moore."
"Yeager testified that he and Flannery were 'wrong' not to interview Jones thoroughly. Hence counsel is deficient where, as here, they did not fully investigate a witness that they knew may be exculpatory," Ambro added.
The Third Circuit also decided the trial court did not err when it decided Moore's deficient counsel prejudiced him in the eyes of the jury.
"First, Scott was a critical witness for the prosecution. He was the sole co-defendant to testify against Moore and he provided many details about Moore's alleged involvement in the robbery – including his testimony that Moore was in possession of both guns when Mr. Romanchick was shot – that were otherwise not in evidence," Ambro said.
"Second, if Moore's counsel had thoroughly interviewed Jones and then presented him as an exculpatory witness, Jones's testimony would have been critical to Moore's case," Ambro added. "When counsel's failures are viewed together, they create "a reasonable probability that, but for [their] unprofessional errors, the result of the proceeding would have been different."
"We have considered the Commonwealth's remaining arguments and find them unpersuasive," Ambro said.
"The District Court properly concluded that Moore's counsel was ineffective and that their deficient representation prejudiced Moore. Thus, we affirm."
Hardiman clarified he concurred in the judgment only and said a prior Court panel "failed to give proper deference under the Antiterrorism and Effective Death Penalty Act of 1996 (AEDPA) and ordered an evidentiary hearing that was not permitted under federal law."
The plaintiff is represented by Mary Gibbons in Toms River, N.J., and Billy H. Nolas, Matthew C. Lawry, Peter Walker and Tracy Ulstad, of the Federal Community Defender's Office's Capital Habeas Corpus Unit, in Philadelphia.
The respondents are represented by Frank P. Barletta and James L. McMonagle Jr. of the Luzerne County District Attorney's Office, in Wilkes-Barre.
U.S. Court of Appeals for the Third Circuit case 14-4042
U.S. District Court for the Middle District of Pennsylvania case 1:05-cv-00828
From the Pennsylvania Record: Reach Courts Reporter Nicholas Malfitano at nickpennrecord@gmail.com