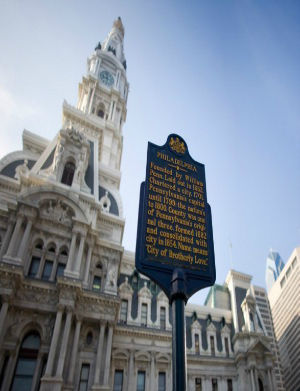 Philadelphia City Hall
PHILADELPHIA – Defense counsel is seeking allegations of recklessness stricken from a negligence-related motor vehicle accident complaint filed in the Philadelphia County Court of Common Pleas.
Moira J. Poper filed a motion for preliminary objections on Dec. 31, wanting to strike all allegations of recklessness from the suit, due to them being "severely prejudicial" to the defendants and failing to provide them with proper information to prepare an adequate defense. Poper also felt these allegations were not specific enough to be included in the complaint.
A hearing in this matter was set for this past Tuesday in Court chambers, at Philadelphia City Hall.
On Feb. 28, 2015, a motor vehicle accident took place at the intersection of 58th Street and Haverford Avenue in Philadelphia, between plaintiffs Carletta E. Whiting and Gerald E. Thompson, and defendant Hanna Lee Melanchuk. The plaintiffs allege the accident was caused by Melanchuk's speeding, failure to use care and generally negligent driving.
The plaintiffs are each seeking damages in excess of $50,000, plus expenses exceeding the minimum benefits under the Pennsylvania Motor Vehicle Financial Responsibility Law (PMVFRL) in this case.
The plaintiffs are represented by Bernard M. Gross in Philadelphia.
The defendants are represented by Poper, also in Philadelphia.
Philadelphia County Court of Common Pleas case 151002344
From the Pennsylvania Record: Reach Courts Reporter Nicholas Malfitano at nickpennrecord@gmail.com