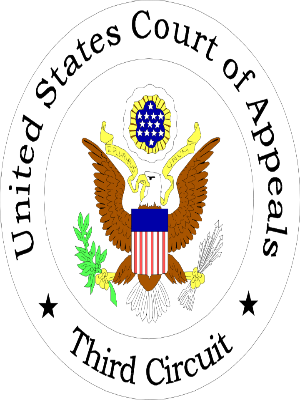 U.S. Court of Appeals for the Third Circuit
PHILADELPHIA – Law enforcement authorities in Allegheny County did not violate a Swissvale man's constitutional rights, in denying an application regarding the restoration of his right to own firearms.
On Tuesday, the U.S. Court of Appeals for the Third Circuit ruled in line with the U.S. District Court for the Western District of Pennsylvania, which stated Marvase J. Spell's claims for alleged violation of the First and Fourteenth Amendments to the U.S. Constitution were not valid.
Spell had been convicted of crimes that prevented him from obtaining a license to carry a firearm in the state of Pennsylvania. Still, he applied for just such a license and checked a box on the application acknowledging his conviction of a crime disallowing his right to bear arms, but also signed the certification at the bottom.
The certification states, "I have never been convicted of a crime that prohibits me from possessing or acquiring a firearm" and "this certification is made subject to…the penalties of relating to unsworn falsifications to authorities."
Per court records, the Allegheny County Sheriff's Office denied the application, and Spell unsuccessfully challenged its decision administratively and before the Commonwealth Court of Pennsylvania.
In the midst of that process, Deputy Sheriff Jared Kulik notified Spell his signing of the certification constituted "an unsworn falsification to authorities." Spell objected and said he had signed the certification only because he wished to seek restoration of his firearm rights, and applying for a firearm license was the necessary first step of that process.
"As will be relevant to our analysis, Spell was incorrect," Third Circuit Judges Julio M. Fuentes, Cheryl Ann Krause and Anthony J. Scirica said in a per curiam ruling.
Kulik ultimately charged Spell with one count of submitting an unsworn falsification to authorities in violation of Pennsylvania state law. About three months later, the charge against Spell was dropped.
Spell then filed suit under 42 U.S.C. Section 1983, alleging Kulik's bringing of the charge violated his federal rights. Spell's complaint listed numerous statutes and constitutional provisions, including the First and Fourteenth Amendments, but he did not allege how Kulik's charging decision violated them and this initial version was dismissed. In his amended complaint, Spell said these violations were related to denying his "petition to appeal", but not related to an alleged Monell violation.
The District Court dismissed Spell's complaint with prejudice, finding Spell did not plausibly allege a First or Fourteenth Amendment violation and that, even if he had, the Sheriff Defendants were entitled to qualified immunity. As to Allegheny County, the District Court concluded Spell had failed to allege anything regarding the violation of a policy or custom under Monell.
Spell appealed to the Third Circuit.
"The only claim warranting separate discussion is Spell's claim that Kulik violated his First Amendment right to petition by charging him with a crime," the Third Circuit said. "Instead, Spell alleges only that the bringing of the charge itself burdened his right to petition because the charge was based on a certification that he submitted as part of a protected petitioning activity."
The Third Circuit judges continued, "Spell further argues that he had to sign the application's certification (even though it was false) in order for the Sheriff's Office to consider the application. Thus, he argues, charging him for signing the certification (even though it was false) violated the First Amendment because it forced him to endure criminal prosecution in order to engage in this petitioning activity."
The appeals court judges labeled Spell's premise as "mistaken".
"In this case, treating the right at issue merely as the First Amendment right to petition would be defining it at too high a level of generality, Instead, Spell is claiming the right to petition by submitting, under penalty of an unsworn-falsification statute, a certification that he knew was false," the Third Circuit said.
"We have located no authority remotely suggesting, let alone clearly establishing, such a right. In the absence of such authority, it was not clearly established that Kulik's decision to charge Spell violated his First Amendment rights," the Third Circuit concluded.
The defendants are represented by Paul R. Dachille of the Allegheny County Law Department and Lisa G. Michel of the Allegheny County Sheriff's Office, both in Pittsburgh.
U.S. Court of Appeals for the Third Circuit case 15-3304
U.S. District Court for the Western District of Pennsylvania case 2:13-cv-01403
From the Pennsylvania Record: Reach Courts Reporter Nicholas Malfitano at nickpennrecord@gmail.com