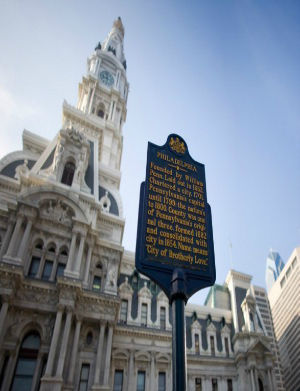 Philadelphia City Hall
PHILADELPHIA – Motions for withdrawal of appearance and alternative service are being considered in a slip-and-fall case connected with the sidewalk outside a Philadelphia grocery market.
Defense counsel Kevin J. McCloskey filed a motion to withdraw appearance on Feb. 11, having determined with Cousin's Supermarket No. 3's general liability carrier, Liberty Mutual Insurance, that none of the entities it entered an appearance for are provided liability coverage at the location where the fall occurred. McCloskey argued Cousin's Supermarket No. 3 isn't a party to this lawsuit and Liberty Mutual has no contractual duty to represent the defendants, thereby allowing counsel to enter a withdrawal petition.
Also, plaintiff counsel Gary Stewart Seflin filed a motion for alternative service on March 17, seeking service of the complaint by mail at the defendants' last known address. Seflin averred in his motion that the defendants were allegedly attempting to avoid service of the complaint, and thus wanted the complaint serviced at the defendants' "corporate nerve center" at 1900 North 5th Street in Philadelphia.
Specifically, because plaintiff counsel said prior addresses provided at West Rising Avenue in Philadelphia and Philmont Avenue in Huntingdon Valley were incorrect.
A hearing in this matter was held Thursday in Court chambers, at Philadelphia City Hall.
On Feb. 15, 2014, Cardona was walking on the defendants' sidewalk on the 1000 block of West Erie Avenue in Philadelphia, when she allegedly slipped and fell on a patch of snow and/or black ice that had been allowed to accumulate from a storm that came through the area two days earlier.
Cardona alleged the defendants' failure to inspect, maintain or clear the sidewalk and abide by the City of Philadelphia's codes of snow removal, which call for a 36-inch path to be cleared within six hours of a storm's end.
In the fall, Cardona allegedly suffered a left wrist radial fracture and left wrist pain and swelling. Cardona then filed suit against Cousin's Food Market, Inc., Cousin's Food Market Nos. 1-3, Khierallah Ahmad, Radwan Ahmad and Keirzllah Ahmad for negligence.
The plaintiff is seeking damages not in excess of $50,000, plus interest, costs, attorney's fees and delay damages in this case.
The plaintiff is represented by Seflin, in Media.
The defendants are represented by McCloskey of Styliades Mezzanotte & Hasson, also in Philadelphia.
Philadelphia County Court of Common Pleas case 151202720
From the Pennsylvania Record: Reach Courts Reporter Nicholas Malfitano at nickpennrecord@gmail.com.