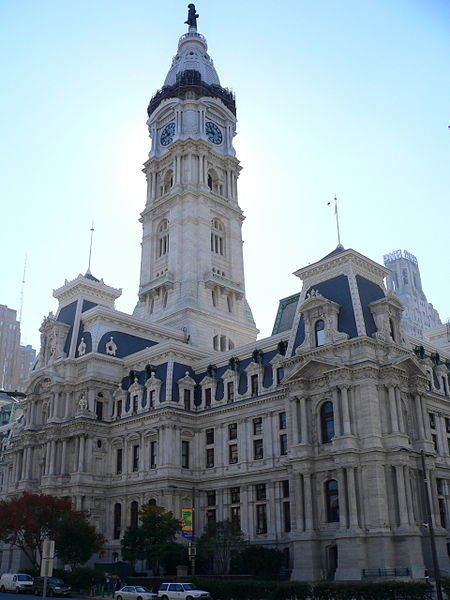 Philadelphia City Hall
PHILADELPHIA – A dispute over preliminary objections marks an apartment slip-and-fall proceeding in the Philadelphia County Court of Common Pleas.
John G. Devlin filed an initial motion for preliminary objections on Dec. 14, seeking transfer of Jeffersonville plaintiff Eileen Aquilani's lawsuit to the Montgomery County Court of Common Pleas, since none of the parties in the lawsuit were based in Philadelphia or did business there. Devlin termed the suit being filed there as a case of "improper forum shopping".
In response, Robert A. Huber filed a motion for preliminary objections on Jan. 5, claiming Devlin's preliminary objections were untimely filed. Under state law, Huber argued opposing counsel's objections were supposed to be filed within 20 days, but Devlin's objections were filed more than 50 days after service of the suit was made.
In addition, Huber stated the claims adjuster associated with this case negotiated extra time for defense counsel in which to file a response to Aquilani's suit on Oct. 23, on the mutually-agreed condition that no preliminary objections would be filed. Huber added he would be willing to depose the claims adjuster on this issue, if necessary.
A hearing in this matter was set for Monday in Court chambers, at Philadelphia City Hall.
On Sept. 26, 2014, Aquilani was lawfully walking along the sidewalk between apartments 101-104 on Meadow Lane in Jeffersonville while pulling a laundry cart, when she fell due to an unmarked and raised sidewalk on the pavement.
Aquilani sustained a concussion, post-concussion syndrome, cervical injuries, facial injuries, post-traumatic headaches, abrasions, contusions, and severe damage to her nerves and nervous system, plus various other ills and injuries.
Based on charges on negligence, the plaintiff is seeking damages in excess of $50,000, plus interest and costs from all defendants in this case. The defendants include Noricum Associates and Nancy Kinckiner of Jeffersonville, plus Westover Companies and Guntram Weissenberger Jr. of King of Prussia.
The plaintiff is represented by Huber of Huber & Palsir, in Philadelphia.
The defendants are represented by Devlin of Devlin Associates, also in Philadelphia.
Philadelphia County Court of Common Pleas case 151000753
From the Pennsylvania Record: Reach Courts Reporter Nicholas Malfitano at nickpennrecord@gmail.com