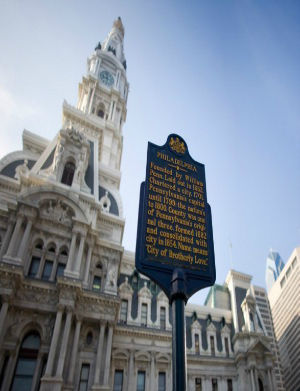 Philadelphia City Hall
PHILADELPHIA – A pair of motions for reconsideration have been approved in a former carpenter's lawsuit against companies who manufactured adhesive products he says caused his cancer diagnosis.
Dennis J. Valenza of Rawle & Henderson filed a motion to this effect on March 17, seeking reconsideration of a March 4 order that denied a motion for summary judgment due to a bankruptcy discharge. Valenza felt the Philadelphia County Court of Common Pleas committed an error of law in believing Armstrong World Industries, Inc. of Lancaster had financial responsibility for the asbestos-containing products in question.
Valenza pointed to a 2006 bankruptcy reorganization plan that established and provided a trust for all asbestos-injury claims resulting from asbestos-containing products. On Tuesday, Judge Angelo Foglietta granted Valenza's motion, and therefore, all claims and cross-claims filed against Armstrong World Industries were dismissed with prejudice.
Similarly, on March 18, John P. McShea filed a motion seeking reconsideration of the Court's March 4 order denying G-I Holdings of Wayne, N.J. a motion for summary judgment, for similar reasons as Valenza's motion.
During a bankruptcy hearing in 2001, a reorganization plan was established which discharged all claims against G-I Holdings. The discharge provision preclude the plaintiffs from asserting their claims (or any at all) against G-I Holdings. On Tuesday, Foglietta granted McShea's motion, which vacated the March 4 court order and granted G-I Holding's motion for summary judgment without prejudice.
A hearing in this matter was set for Monday in Court chambers, at Philadelphia City Hall.
The plaintiffs' lawsuit alleges Phillip Razzi of Little Egg Harbor, N.J., was employed as a carpenter for Modern Floors, Inc. from 1955-1960 and 1962-1966 and for Milstein Floors from 1966-1972, and in the process, was exposed to the defendants' toxic products – such as adhesives and cut-back adhesives containing benzene, organic solvents and toxins.
As a result, Razzi says he contracted Non-Hodgkin's Lymphoma and did not discover a connection between his condition and the toxic exposure until May 2013. Razzi claims the defendants manufactured, produced, sold and distributed these toxic products, which were used by the plaintiff's employers under the Matico, Ruberoid, GAF, Armstrong & Tarkett brand names.
The plaintiffs sued the defendants for negligence and gross negligence, breach of warranty, strict liability, intentional tort-battery and loss of consortium for failure to know and warn of toxic products and their related health hazards. Anna Razzi sues for loss of consortium in this case, as well.
The plaintiffs are seeking damages jointly and severally, in excess of $50,000, plus punitive damages, costs, interest, attorney's fees and delay damages in this case.
The plaintiffs are represented by Andrew J. Dupont, Jenna K. Egner and Mark S. Weinstein of the Locks Law Firm, in Philadelphia.
The defendants are represented by Bernard E. Quinn, Frank C. Friestedt and Francis X. Simpson of McGivney & Kluger, plus McShea and Donna M. Brennan-Scott of the McShea Law Firm, Lawrence A. Monte of Collatz Griffin & Ewing, Valenza, Peter J. Neeson, Peter C. Kennedy, also all in Philadelphia.
Philadelphia County Court of Common Pleas case 131102510
From the Pennsylvania Record: Reach Courts Reporter Nicholas Malfitano at nickpennrecord@gmail.com