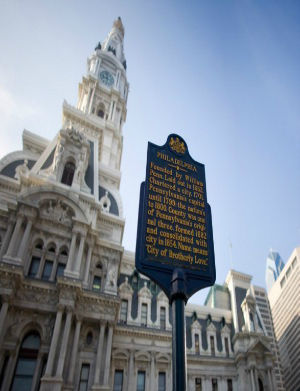 Philadelphia City Hall
PHILADELPHIA – A hearing connected to cancelled arbitration sessions in a motorcycle crash case has been moved back until late April, according to the Philadelphia County Court of Common Pleas.
The case itself in question was transferred to binding arbitration on Dec. 28, though those sessions were apparently later cancelled and a hearing on said cancellations was set for Tuesday. However, it was continued until April 28 and all counsel were informed, per Judge Lisa M. Rau.
On July 30, 2012, Yeadon resident Arthur Milano was driving a motorcycle with Philadelphia resident Marion Marzullo in tow as a passenger west on Oregon Avenue in Philadelphia, approaching its intersection with 19th Street. Milano's motorcycle then allegedly came into contact with an unsecured and raised manhole cover that ejected both Milano and Marzullo from the motorcycle and caused permanent injuries to both plaintiffs.
The plaintiffs accuse the defendants of failing to provide safe travel routes, failing to use due care and allowing this dangerous condition to exist.
Milano allegedly suffered full-body injuries, including right anterior talofibular ligament tear, non-displaced right hip fracture, radiculopathy of his right C5, left C6 and C7, L5 and S1 vertebrae, right superficial peroneal and sural sensory neuropathies, mild left sural neuropathy, left tibial neuropathy at medial ankle, left and right hand carpal tunnel syndromes and cervical/lumbar disc protrusions.
Marzullo also allegedly suffered serious injuries, fracturing her right 5th, 6th and 7th ribs, internal derangement of her right knee, radiculopathy in her C5 and C6 vertebrae and severe bilateral carpal tunnel syndromes.
The plaintiffs are each seeking damages in excess of $50,000, plus interest and costs from the defendants in this case, the City of Philadelphia and the Philadelphia Water Department.
The plaintiffs are represented by Alan F. Galerman of the Galerman Law Group, in Philadelphia.
The defendants are represented by Peter W. Baker of the City of Philadelphia's Law Department, also based in Philadelphia.
Philadelphia County Court of Common Pleas case 140703421
From the Pennsylvania Record: Reach Courts Reporter Nicholas Malfitano at nickpennrecord@gmail.com