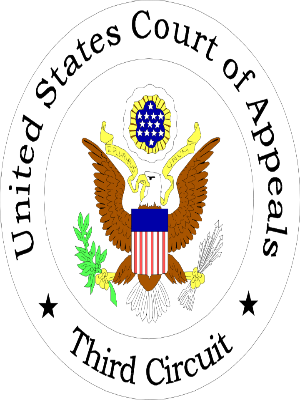 U.S. Court of Appeals for the Third Circuit
PHILADELPHIA – A former banquet manager at the Washington Crossing Inn has not overcome a prior ruling of summary judgment made in favor of her prior employer, a federal appeals court declared.
On Friday, the U.S. Court of Appeals for the Third Circuit decided Lisa Mercantanti did not prove WCI Operations, LLC (WCI) violated the Age Discrimination in Employment Act (ADEA) or Pennsylvania Human Relations (PHRA), with Judge Anthony J. Scirica authoring the Court's opinion in this case.
WCI purchased the Inn in 2009, and in May of that same year, rehired Mercantanti as banquet manager – the same position she held before the purchase. As banquet manager, Mercantanti was responsible for banquets and other events at the Inn. Per the lawsuit, Mercantanti and WCI's new managers "did not see eye-to-eye on many of WCI's ideas for operational changes."
It is said Mercantanti "argued with WCI's managers about the directive not to bring her dog to work, the possibility of a new dress code, and WCI's requirement that she record certain categories of information about customer inquiries."
Due to the disagreements, WCI terminated Mercantanti on Nov. 19, 2009 and eliminated the banquet manager position altogether – creating in its place, the "banquet coordinator" role. This position initially had no benefits and a lower salary than the banquet manager position held by Mercantanti. WCI offered the role to Tara DiBianca on Nov. 25, 2009, who turned it down.
Without a banquet manager or coordinator, a former subordinate of Mercantanti's, 22 year-old Ashley Kohler, became temporarily responsible for banquets and events at the Inn. But WCI neither promoted Kohler to the position of banquet manager or banquet coordinator, nor promised her that she would be offered either position.
Kohler fulfilled these responsibilities for about three months until WCI hired Cammy Castiello for the position of banquet coordinator on March 2, 2010. The position now included benefits and a salary that was slightly higher than that offered to DiBianca, but still not as high as the salary Mercantanti made as banquet manager.
Mercantanti believed since her employment ended in November 2009 when she was 54 years old and WCI transferred her duties to a 22 year-old, she had grounds to sue WCI under both the ADEA and PHRA, alleging WCI terminated her employment because of her age.
On Jan. 14, 2010, about two months after her termination, Mercantanti filed an age discrimination claim against WCI with the Equal Employment Opportunity Commission (EEOC). At the same time, Mercantanti filed a discrimination claim with the Pennsylvania Human Relations Commission.
The EEOC issued a notice of right to sue on April 2, 2013, and thus, Mercantanti filed suit in federal court on July 1, 2013. But after the discovery period, the Court granted WCI's motion for summary judgment and Mercantanti timely appealed to the Third Circuit.
"WCI concedes, for purposes of its summary judgment motion, that Mercantanti has presented a prima facie case of age discrimination. But WCI offers a nondiscriminatory reason for discharging Mercantanti – Mercantanti constantly 'locked horns' with WCI's management," Scirica said.
"Therefore, the sole issue is whether Mercantanti has created a genuine issue of material fact about whether WCI's proffered nondiscriminatory reasons for terminating Mercantanti's employment are pretextual," Scirica added.
Scirica said the Third Circuit concurred with the trial court that Mercantanti "has failed to provide any evidence contradicting the core facts supporting WCI's reasons for terminating her employment at the Inn", which were due to her policy conflicts with management.
Scirica further found Kohler's age had no effect on the outcome of these proceedings.
"Although the fact that Kohler, who is thirty-two years younger than Mercantanti, took over Mercantanti's position is sufficient to help establish a prima facie case, it is not sufficient to undermine WCI's nondiscriminatory justification," Scirica said. "WCI never promised to promote, nor formally promoted, Kohler to the position of banquet manager. In fact, it told Kohler she was too young for the position and that she was only assuming Mercantanti's responsibilities until WCI hired someone else."
The appellant is represented by of Timothy M. Kolman and W. Charles Sipio of Kolman Ely, in Penndel.
The appellee is represented by Daniel S. Sweetser of Szaferman Lakind Blumstein Blader & Lehmann, in Lawrenceville, N.J.
U.S. Court of Appeals for the Third Circuit case 15-1866
U.S. District Court for the Eastern District of Pennsylvania case 2:13-cv-03814
From the Pennsylvania Record: Reach Courts Reporter Nicholas Malfitano at nickpennrecord@gmail.com