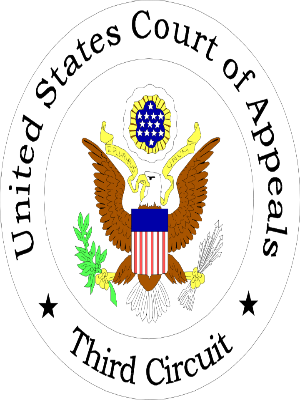 U.S. Court of Appeals for the Third Circuit
PHILADELPHIA – A woman's negligence lawsuit against Ross Stores of Pennsylvania has now twice found itself on the losing end of a summary judgment motion in federal court.
Much like their counterpart in the U.S. District Court for the Eastern District of Pennsylvania, judges of the U.S. Court of Appeals for the Third Circuit determined Monday in a per curiam ruling that appellant Dulce Cabrera was unable to prove the causation elements of her claim without expert testimony.
According to her suit initially filed in the Philadelphia County Court of Common Pleas prior to its removal, Cabrera was shopping in a Ross store in Whitehall on June 29, 2011, when she slipped and fell due to an accumulation of water on the floor, suffering a knee injury in the process.
In anticipation of trial, the District Court ordered both the plaintiff and defense to submit a list of their expected witnesses by Oct. 2. According to court records, Cabrera states her initial discovery disclosures contained the names of her treating physicians Dr. Alexis Troncosco, Dr. Mark Augello, and Dr. James Sunday. Furthermore, Cabrera claimed to reserve "the right to call any medical providers identified above or in attached medical records" and "the right to supplement this response in the future."
"Cabrera also states that she both served upon Ross Stores and filed with the District Court an expert witness report from Dr. Bruce Grossinger on Sept. 28, 2015, which opines that Cabrera's alleged fall at Ross Dress for Less caused her knee injury," the Third Circuit said.
However, Grossinger's name did not appear on the list of Cabrera's trial witnesses provided to the defense, nor was he included in a discovery list of potential disclosures of exhibits.
The District Court then granted Ross Stores a motion in limine to prevent Cabrera from presenting expert witness testimony at trial, and later, a motion for summary judgment which dismissed Cabrera's claims with prejudice. Cabrera then timely appealed to the Third Circuit.
Cabrera argued she "substantially complied with the District Court's scheduling order when she submitted the box of documents to the District Court that included Dr. Grossinger's expert report." Cabrera also argued "expert testimony was not strictly necessary under Pennsylvania law under the circumstances of her case."
Ross Stores opposed the totality of Cabrera's arguments.
"As an initial point, we agree with the District Court that expert testimony was necessary to establish the causation element of Cabrera's suit. The passage of time between when Cabrera fell at Ross Dress for Less and when she received medical treatment meant that her case was not one in which there was an obvious causal relationship between the accident and her injury," the Third Circuit said.
The Third Circuit said Cabrera had "ample opportunity to disclose her intention to use Dr. Grossinger as an expert but consistently failed to do so."
"Although Cabrera placed Dr. Grossinger's report in the box of trial exhibits that she delivered to the District Court, neither Ross Stores nor the District Court was required to sift through those documents in order to discern their significance. Placing a report in a box as a potential exhibit is not the same thing as identifying the author of the report as an expert witness for trial," the Third Circuit said.
The appeals court said only after the District Court dismissed her case did Cabrera argue as to Grossinger's analysis supporting the causation element of her claim.
"Cabrera's argument seems to be that disclosing her medical condition in general is sufficient to disclose the essential contested point of what caused her injuries, and that she was therefore entitled to rely on Dr. Grossinger's report at any time. That is not so," the Third Circuit commented.
The appeals court upheld the verdict of summary judgment granted by the District Court.
"The District Court was then also correct to grant summary judgment in favor of Ross Stores and dismiss Cabrera's case for want of evidence to support the element of causation. Consequently, we will affirm the District Court's judgment. Ross Stores' motion to quash is dismissed as moot," the Third Circuit said.
The appellees are represented by Elizabeth Chalik of Marks O'Neill O'Brien Doherty & Kelly, in Philadelphia.
U.S. Court of Appeals for the Third Circuit case 15-4017
U.S. District Court for the Eastern District of Pennsylvania case 5:13-cv-05218
From the Pennsylvania Record: Reach Courts Reporter Nicholas Malfitano at nickpennrecord@gmail.com