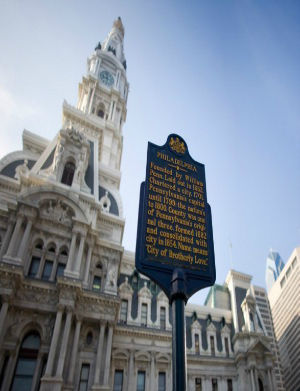 Philadelphia City Hall
PHILADELPHIA – A plaintiff who filed a slip-and-fall lawsuit against the City of Philadelphia and did not appear at a hearing during which her counsel withdrew their appearance has the Philadelphia County Court of Commons wanting to know why.
Steven A. Liss filed a motion to withdraw his appearance on Jan. 13, due to differences with his client and plaintiff Christina Polizzano. Liss claims he left several phone messages for Polizzano in early November 2015 advising her of his desire to withdraw from the suit, in addition to sending letters expressing identical intent through both regular and certified mail.
Liss added he did make phone contact with Polizzano after that and directly noticed her of his intent to exit the suit. Liss sought a 60-day stay of all proceedings, in order to provide Polizzano time to secure new counsel.
Liss's withdrawal petition was granted on Feb. 12, but Polizzano did not appear for the court proceeding. Therefore, Judge Lisa M. Rau slated a hearing in this matter was set for this past Thursday in Court chambers at Philadelphia City Hall, ordering Polizzano to appear and explain why she was absent from the February proceeding.
If Polizzano failed to appear once again at this week's hearing, Rau warned her case could be dismissed.
On Dec. 31, 2013, the City owned property at Mollbore Terrace and allegedly permitted a dangerous condition to exist on the sidewalk adjacent to the terrace's south side. Polizzano tripped and fell due to the cracked and broken sidewalk, resulting from the negligence of the City, she claims.
Polizzano allegedly suffered a 15-centimeter laceration from her forehead to her scalp, which required staple treatment, she says.
The plaintiff is seeking damages not in excess of $50,000, and avers third-party recovery is possible under the Pennsylvania Political Subdivision Tort Claims Act, since she was injured on City property, suffered a permanent loss of bodily function and had medical expenses exceed $1,500.
The defendant is represented by Anthony J. Agati of the City Solicitor's Office, in Philadelphia.
Philadelphia County Court of Common Pleas case 141202491
From the Pennsylvania Record: Reach Courts Reporter Nicholas Malfitano at nickpennrecord@gmail.com