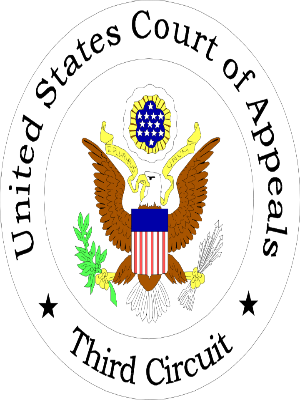 U.S. Court of Appeals for the Third Circuit
PHILADELPHIA -- A Bellefonte man who claims his religious texts were destroyed by officers who arrested him has had his appeal to revisit a motion for reconsideration in the lawsuit he filed in response to that incident denied.
On Wednesday, U.S. Court of Appeals for the Third Circuit Judges Thomas L. Ambro, Patty Shwartz and Morton I. Greenberg upheld a denial from the U.S. District Court for the Eastern District of Pennsylvania in connection to Derek Pinkins' motion for reconsideration in his civil rights case.
Pinkins filed his lawsuit in April 2015, explaining when he was arrested in December 2013, two religious books were confiscated from his person. While in custody at the Philadelphia Police Department's First District headquarters, Pinkins said he was handed a property receipt that contained a list of the items in his possession at the time of his arrest.
Pinkins said he asked defendant Officer Borith Long why his religious texts were not included on the list, and he allegedly was told by Long that he couldn't be given his books on supervisory orders, as they were being held as evidence.
Pinkins added that during his later transfer from custody he learned that his religious texts were destroyed. In his suit against Long and fellow Officer Ernest Hall, Pinkins sought $50,000 in compensatory damages and not more than $150,000 in punitive damages.
By order entered May 5, 2015, the district court dismissed the complaint with leave to file an amended complaint within 30 days. The court directed Pinkins to state "(1) How each defendant, named in the caption of his complaint, has violated his constitutional rights; (2) The dates on which the events giving rise to his claims occurred; and (3) What harm, if any, he has suffered from the actions of each defendant."
The district court granted Pinkins an extension, until Aug. 20, to file his amended complaint. When no amended complaint was filed by that deadline, the district court closed the case.
Pinkins then filed a motion for reconsideration requesting additional time to file an amended complaint, but did not end up including an amended complaint, provide any additional allegations or explain why he needed more time for filing.
The district court denied the motion for reconsideration, and Pinkins filed a notice of appeal with the Third Circuit, where the case came before Ambro, Shwartz and Greenberg in a per curiam setting.
"The District Court did not give any reasons for its dismissal of the complaint. But to the extent that Pinkins sought to bring a due process claim challenging the destruction of his property, his allegations were insufficient to state a claim," the Third Circuit wrote. "As Pinkins did not describe any steps he took to request compensation for his lost property, the District Court did not err in dismissing the complaint with leave to amend."
Subsequently, the Third Circuit denied Pinkins' appeal for his motion of reconsideration.
"Summary action is appropriate if there is no substantial question presented in the appeal. "For the above reasons, we will summarily affirm the District Court's orders," the federal appeals court wrote.
U.S. Court of Appeals for the Third Circuit case 15-3426
U.S. District Court for the Eastern District of Pennsylvania case 2:15-cv-02292
From the Pennsylvania Record: Reach Courts Reporter Nicholas Malfitano at nickpennrecord@gmail.com