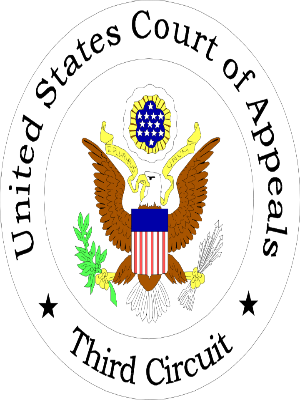 U.S. Court of Appeals for the Third Circuit
PHILADELPHIA – Ruling in line with the U.S. District Court for the Eastern District of Pennsylvania, a federal appeals court judge has determined a New Jersey-based credit card debtor's lawsuit failed to state a claim under the Fair Debt Collection Practices Act (FDCPA).
Along with U.S. Court of Appeals for the Third Circuit judges Thomas L. Ambro and Cheryl Ann Krause, U.S. District Court for the District of New Jersey Judge Anne E. Thompson (sitting by special designation) upheld the motion to dismiss all claims brought by Rochelle Carmichael under the FDCPA on Friday.
According to the litigation, Carmichael is a New Jersey resident who was employed by Alvah Bushnell Co. in Pennsylvania, a firm which also has a branch location in New Jersey.
Carmichael had two judgments entered against her in New Jersey that arose from unpaid credit card debts, and the defendants in the original action are debt collectors who filed wage garnishments in New Jersey, where Carmichael lived. The defendants sought garnishment of Carmichael's wages at Alvah Bushnell's New Jersey address, which was then granted.
Carmichael then filed suit against the defendants in the District Court, alleging her wage garnishment was illegal under the FDCPA (in addition to state law claims, though the District Court did not exercise supplemental jurisdiction over those).
"The defendants each filed their own motions to dismiss, which were granted on the grounds that Carmichael's complaint failed to state a claim upon which relief could be granted," Thompson said. Carmichael then appealed to the Third Circuit.
Carmichael's argument before the District Court rested upon the premise that her wages could not be garnished because she earned them in Pennsylvania (which has a statute generally prohibiting wage garnishment), but the District Court found Pennsylvania has consistently honored out-of-state garnishments for well over a century.
"The District Court additionally found that no case law supported Carmichael's position. Lastly, the District Court held that there is 'no legal basis for imposing Pennsylvania law on Defendants who acted appropriately under New Jersey law to collect on their New Jersey judgment against a New Jersey resident," Thompson said.
Thompson added Carmichael argues that "Pennsylvania is bound to respect other state's judgments, but not their collection devices, namely, the mechanism of wage garnishment."
"This argument goes against the relevant line of case law. Contrary to Carmichael's argument, this line of case law need not be abandoned because the Pennsylvania legislature amended Section 8127 in 2004. The amendment only changed the phrase 'district justice' to 'magisterial district judge,' which has no effect on the substantive meaning of the statute," Thompson said.
Thompson continued even if Carmichael were a Pennsylvania resident working in Pennsylvania, her wages could be garnished via an out-of-state judgment and wage attachment. But as the District Court noted, all of the relevant events in this case took place in New Jersey, which permits wage garnishment.
More specifically, New Jersey permits wage garnishments to be served on foreign corporations (such as Alvah Bushnell Co.) that are subject to New Jersey's jurisdiction due to their ties to the state, citing multiple cases where wage garnishments were served on corporations' satellite offices," Thompson said.
"Alvah Bushnell Co. has at least one location in New Jersey, and Carmichael does not dispute New Jersey's ability to exercise jurisdiction over Alvah Bushnell Co. Carmichael herself resides in New Jersey, and provides no case law that demonstrates why her wages cannot be garnished in New Jersey via the properly served garnishments on her employer," Thompson stated.
Thompson said the Third Circuit saw "no reason to disturb 143 years of Pennsylvania precedent."
"As Carmichael's FDCPA claim rests solely on the allegation that Pennsylvania law bars garnishment of her wages, and we reject that contention, we agree with the District Court that her complaint failed to state a claim for a violation of the FDCPA," Thompson said.
The appellant is represented by Matthew B. Weisberg of Weisberg Law, in Morton.
The appellees are represented by Francis X. Grimes, Mitchell L. Williamson and Ralph Gulko of Pressler & Pressler, both in Philadelphia and Parsippany, N.J., plus Lauren M. Burnette of Barron & Newburger in St. John's, Fla., and Lawrence J. Bartel of Marshall Dennehey Warner Coleman & Goggin, in Philadelphia.
U.S. Court of Appeals for the Third Circuit case 15-2506
U.S. District Court for the Eastern District of Pennsylvania case 2:14-cv-06124
From the Pennsylvania Record: Reach Courts Reporter Nicholas Malfitano at nickpennrecord@gmail.com