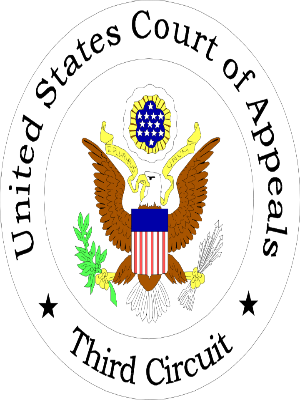 U.S. Court of Appeals for the Third Circuit
PHILADELPHIA – The U.S. Court of Appeals for the Third Circuit ruled Tuesday that an Allegheny County court official did not act improperly in handling a filing from a Huntingdon man.
In a per curiam decision judges Thomas L. Ambro, Patty Shwartz and Richard L. Nygaard decided Abdullah Haneef Ibn-Sadiika "failed to state a claim on which relief could be granted, and concluded further that the appeal lacks arguable merit," leading to its dismissal.
Ibn-Sadiika filed a complaint in August in the U.S. District Court for the Western District of Pennsylvania against Allegheny County, its Department of Court Records and the Department's Director Kate Barkman, charging the defendants with allegedly "failing to docket his filing, and for allegedly certifying the record on appeal in state court in a way that Ibn-Sadiika says was erroneous."
The District Court referred Ibn-Sadiika's complaint to U.S. Magistrate Judge Cynthia Reed Eddy, who concluded that the complaint did not plead a viable cause of action against any defendant and recommended dismissal. The District Court adopted Eddy's report and recommendation, and then dismissed Ibn-Sadiika's complaint for the failure to state a claim.
Ibn-Sadiika's appeal followed.
"We agree that the complaint fails to state a claim and that the District Court correctly dismissed the complaint... Ibn-Sadiika could not plead a viable claim against the Director of the Department of Court Records," the Third Circuit stated.
The federal appeals court said acts as those alleged by the plaintiff would not be outside the scope of duties for a court administrator or taken without any jurisdiction, which entitles Barkman to "quasi-judicial immunity" from litigation.
"Nor has Ibn-Sadiika adequately pleaded that any county policy, custom, or practice led to a purported constitutional violation related the alleged filing and certification errors at issue in his complaint," the Third Circuit judges said.
"We also agree with the District Court that Ibn-Sadiika's claims for damages against the Director for alleged violations of the Pennsylvania Constitution must fail," the appeals court added, citing Commonwealth Court of Pennsylvania precedent in Jones v. City of Philadelphia.
In that case, the Commonwealth Court ruled, "Neither Pennsylvania statutory authority, nor appellate case law has authorized the award of monetary damages for a violation of the Pennsylvania Constitution."
Further, the Third Circuit determined with no viable federal claim pleaded in the instant complaint, the District Court declining to exercise supplemental jurisdiction over any potential state law claim was a correct and appropriate gesture.
"Finally, we conclude further that Ibn-Sadiika's appeal lacks arguable merit. Ibn-Sadiika's objections did not address the Magistrate Judge's clearly stated reasons for recommending dismissal, and yet Ibn-Sadiika still sought to pursue this appeal after the District Court dismissed his case," the Third Circuit said.
"For these reasons, we will dismiss the appeal."
U.S. Court of Appeals for the Third Circuit 15-4068
U.S. District Court for the Western District of Pennsylvania case 2:15-cv-01052
From the Pennsylvania Record: Reach Courts Reporter Nicholas Malfitano at nickpennrecord@gmail.com