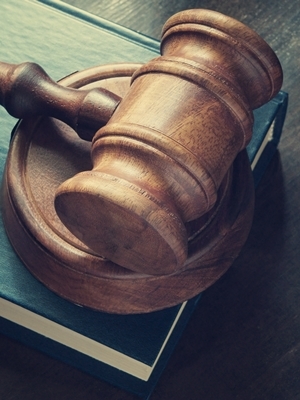 U.S. District Court for the Eastern District of Pennsylvania
PHILADELPHIA -- A federal court has determined a Pennsauken, N.J., woman's allegations of sex discrimination and race discrimination against her former employer will proceed.
On Thursday, Judge Gerald J. Pappert of the U.S. District Court for the Eastern District of Pennsylvania ruled the majority of Suncere Jacobs' claims against Contract Callers, Inc., (CCI) of Huntingdon Valley survived a motion to dismiss from CCI.
Jacobs began working for CCI in August 2004 as a "72-hour notice dropper," where she would deliver shut-off notices for utility companies which contracted with CCI.
In early April 2013, Jacobs' supervisor Gilbert Green "falsely accused her of work impropriety in the form of intentionally not delivering her assigned notices." Supposedly, Green followed Jacobs while she drove to deliver the notices, and falsely claimed she did not deliver them. Jacobs claimed CCI's general manager and vice president, David Stetz, was present during this incident.
During a restroom break, Jacobs claimed CCI called the Lower Merion Police Department, whose officers searched Jacobs and her personal property for the allegedly undelivered notices. No notices were found, and Jacobs said she was "severely humiliated" by this event.
Despite the lack of evidence of wrongdoing on Jacobs' part, CCI terminated her employment on April 5, 2013, with Stetz telling Jacobs she was fired because "they had found out that she had not made delivered one of her notices three weeks prior."
Jacobs further alleged a number of fellow African-American employees were fired in this same time frame for falsely alleged disciplinary issues while preferential treatment was given to Caucasian employees, and Jacobs also supposedly found herself the target of sexist remarks.
Jacobs filed suit against CCI in September, and CCI responded with a motion to dismiss (or alternatively, strike certain portions of) Jacobs' complaint in December.
"Counts I and III of Jacobs's complaint allege claims of sex discrimination under Title VII of the Civil Rights Act of 1964 and the Pennsylvania Human Relations Act (PHRA)," Pappert said. "Incorporated in both counts are allegations of a 'practice and a pattern' of terminating female employees disproportionately to male employees who commit similar infractions."
Pappert explained Jacobs's response brief confused a "pattern or practice" claim with a "similarly situated employee evidence supporting a disparate treatment" claim.
"In any event, Jacobs concedes that she is not alleging a separate 'pattern or practice claim.' The Court accordingly dismisses Counts I and III insofar as they allege 'pattern or practice' claims," Pappert said.
"Counts I and III additionally incorporate claims of race discrimination. A Title VII plaintiff must exhaust all administrative remedies before bringing a claim for judicial relief. The PHRA has a similar exhaustion requirement and 'claims under the PHRA are interpreted coextensively with Title VII claims," Pappert added.
"Jacobs's EEOC charge, which she cross-filed with the PHRA, alleged only sex discrimination. Jacobs concedes that this claim was erroneously incorporated in Counts I and III. The Court therefore dismisses Counts I and III insofar as they allege race discrimination claims which Jacobs has not administratively exhausted," Pappert said.
Pappert stated Count II of Jacobs's complaint alleges race discrimination under 42 U.S.C., Section 1981, but sex discrimination claims were also included in that count. Pappert said claims for sex discrimination are not "cognizable" under Section 1981, and dismissed that particular section of Count II.
"While CCI moves to dismiss the entirety of the complaint, it makes no arguments as to the sufficiency of Jacobs's sex discrimination claims in Counts I and III and race discrimination claim in Count II," Pappert said.
"A party waives an argument if they fail to raise it in their opening brief. CCI's motion to dismiss those portions of Jacobs's complaint is therefore denied."
The plaintiff is represented by Reginald C. Allen in Philadelphia.
The defendant is represented by Joseph F. Riga of McCabe Weisberg & Conway, also in Philadelphia, plus Ira L. Blank and Lawrence Wittels of The Enterprise Law Group in St. Louis, Mo.
U.S. District Court for the Eastern District of Pennsylvania case 2:15-cv-05286
From the Pennsylvania Record: Reach Courts Reporter Nicholas Malfitano at nickpennrecord@gmail.com.