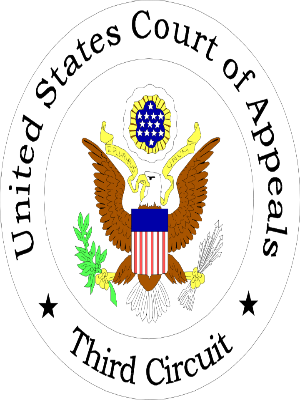 U.S. Court of Appeals for the Third Circuit
PHILADELPHIA -- A federal appeals court determined Tuesday that a psychologist who continues to fight for the reinstatement of his license to practice medicine brought forth "meritless" litigation.
In a per curiam decision, the U.S. Court of Appeals for the Third Circuit ruled James Singer's appeal to be baseless, as to the alleged deprivation of his First Amendment right to free speech and Fourteenth Amendment right to due process by the Bureau of Professional & Occupational Affairs, State Board of Psychology and a number of other individual defendants acting in their official capacities.
Singer had his license to practice psychology suspended in 1992, and has repeatedly attempted since that time to have his license reinstated, and to have "certain institutions, boards, and individuals held accountable for what he believes was an unlawful suspension."
In 2013, Singer filed his seventh civil rights complaint pursuant to 42 U.S.C. Section 1983 alleging "continuing violations" of his constitutional rights, as a result of his license suspension. The district court dismissed the complaint as frivolous and for failure to state a claim pursuant to 28 U.S.C. Section 1915, leading Singer to appeal.
Third Circuit judges Thomas L. Ambro, Joseph A. Greenaway Jr. and Leonard I. Garth determined that Singer's claims against the first four named defendants, Frank Monaco, John D. Kelly, John Pifer and Sally Ulrich, were barred by the doctrine of res judicata, or precluded based on a final judgment issued regarding the same parties and a same or essentially similar course of action.
"Contrary to Singer's contention, the fact that the claims were previously dismissed as time-barred does not prevent application of claim preclusion," the Third Circuit wrote.
The appeals court ruled Singer's claims against the remaining defendants were also precluded, though by difference circumstances.
"Singer's claims against Sally Ulrich, John Gillespie, and Agent Harris are barred by Pennsylvania's two-year statute of limitations. Singer failed to plead a continuing violation sufficient to invoke an equitable exception to the requirement of timely filing," the Third Circuit wrote.
Singer claimed the existence of "continuing violations related to retaliation to cover up child abuse that he reported," but the Third Circuit said he failed to plead facts to support this allegation.
"As we noted in our decision upholding the dismissal of his sixth Section 1983 action, 'the Board suspended Singer's license 20 years ago and the ongoing harm that he has suffered is traceable to that suspension,'" the Third Circuit wrote.
The appellate court labeled Singer's allegations that the defendants continue to oppress him for exercising his constitutional rights and related violations therein as "vague" and "do not relate to any specific defendant."
"Finally, the allegations against John Pifer, said to occur within the statute of limitations, fail to state a claim for relief," the panel wrote. "Singer merely states that Pifer, a Pennsylvania State Police officer, contacted Dorothy Cotter, an individual Singer knew, and informed her that the PSP were searching for Singer because he had allegedly made 'threats.'"
The Third Circuit said the conversation Singer referenced between Pifer and Cotter wasn't connected to his claims of alleged loss of income from his profession, and did indicate the presence of any stated cause of action against Pifer.
"In light of the fact that Singer's claims against all of the defendants were indisputably unsuccessful, we find no error with the District Court's decision to dismiss the complaint with prejudice. We will therefore affirm the judgment of the District Court," the panel wrote.
U.S. Court of Appeals for the Third Circuit case 14-2970
U.S. District Court for the Middle District of Pennsylvania case 3:13-cv-03059
From the Pennsylvania Record: Reach Courts Reporter Nicholas Malfitano at nickpennrecord@gmail.com.