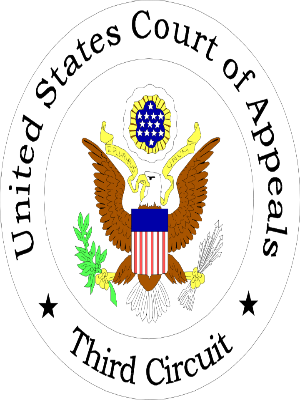 U.S. Court of Appeals for the Third Circuit
PHILADELPHIA – The U.S. Court of Appeals for the Third Circuit ruled a woman's claims of unlawful retaliation under Title VII of the Civil Rights Act of 1964 and the Family and Medical Leave Act (FMLA) against Harrah's Chester Casino & Racetrack were once again dismissed through a grant of summary judgment.
In a written opinion authored by Judge Joseph A. Greenaway Jr., Greenaway plus Third Circuit judges Thomas I. Vanaskie and Patty Shwartz ruled Thursday that Nihal Menekse "did not make out a prima facie case of retaliation under Title VII and…did not put forth sufficient evidence to demonstrate pretext on her FMLA retaliation claim."
Menekse began working for Harrah's in 2007 as a beverage server and began to complain to casino management the following year. Menekse claimed her supervisor John Truitt began harassing her, levying unfair discipline and withholding seniority privileges, after learning she was of Turkish descent and a practicing Muslim. Menekse also claimed, on several occasions, Truitt refused to give her requested leave, which is required under the FMLA.
Menekse also alleged other incidents of harassment from co-workers, which included being asked if she was a "terrorist" and "had a bomb," or since she was from Turkey, if she was "going to be cooked for Thanksgiving."
In addition, Menekse also faced a number of disciplinary incidents at Harrah's, the last of which resulted in her suspension and subsequent termination.
In March 2011, Menekse was disciplined for serving a guest more than three alcoholic beverages without notifying a supervisor. Menekse was also disciplined the following month for missing days of work, due to taking time off through the FMLA that was not approved.
In July 2011, Menekse was disciplined for being outside of her work area for more than 15 minutes.
Finally, Menekse allegedly used profanity at a fellow server attempting to attend to guests in Menekse's assigned section. Harrah's suspended and then fired Menekse on July 6, 2011, believing her profane statement to her co-worker was a "threat."
Menekse filed suit in August 2012, alleging Harrah's "unlawfully retaliated against her for complaining about harassment in violation of Title VII and unlawfully retaliated against her for taking FMLA leave."
"The District Court granted summary judgment for Harrah's on both counts. With regard to Menekse's Title VII claim, the Court concluded that Menekse put forth insufficient evidence to establish a prima facie case," Greenaway said.
"The Court also concluded that Menekse's FMLA claim failed because there was insufficient evidence to demonstrate pretext. Menekse now appeals."
According to the Third Circuit, the District Court ruled correctly in dismissing Menekse's Title VII claim.
"The District Court correctly concluded that Menekse could not demonstrate a causal link between her complaints and termination. The time period between Menekse's most recent complaint (March or April 2011) and her termination (July 2011) does not, on its own, raise an inference of causation," Greenaway said. "Further, Menekse presented little to show that the evidence as a whole raises an inference of causation."
Greenaway indicated Menekse's allegation of increased discipline after making her complaints was not germane to her case.
"While the record suggests that Menekse was not formally disciplined4 in 2010 and for some months in 2011, such evidence alone, especially in the context of Menekse's complete disciplinary record, is insufficient to establish a causal relationship," Greenaway said.
The Third Circuit felt similarly about Menekse's FMLA claim, believing she did not demonstrate pretext.
"Menekse was terminated one week after her most recent request for FMLA leave on June 30, 2011. The District Court was correct to conclude that "the one-week gap…is sufficiently small that it creates a triable issue as to whether her request for FMLA leave was the cause of her termination," Greenaway said.
"Menekse could not, however, establish pretext as she did not show that Harrah's proffered reasons for her termination were so weak so as to be disbelieved. On this point, the District Court noted that Menekse presented no evidence," Greenaway added.
Greenaway said, "the record evidence indicates that Harrah's reasonably believed Menekse's statement was a threat" and "while Menekse might have a different view as to how her statement was interpreted, this disagreement does not establish pretext."
Menekse argued "her statement was not actually a threat, the temporal proximity between her request and her termination and third, Harrah's previous denials of her FMLA requests" all established pretext, a view the Court rejected.
"Menekse fares no better on her arguments regarding temporal proximity and Harrah's denials of her FMLA requests," Greenaway said. "Without more, such evidence cannot raise an inference of pretext, given Menekse's history of disciplinary infractions, which are documented in the record, and which began long before the leave requests at issue."
The plaintiff is represented by James A. Bell IV and Christopher A. Macey Jr. of Bell & Bell, in Philadelphia.
The defendant is represented by Russell L. Lichtenstein and Stephanie E. Farrell of Cooper Levenson, in Atlantic City, N.J.
U.S. Court of Appeals for the Third Circuit case 14-3326
U.S. District Court for the Eastern District of Pennsylvania case 2:12-cv-04912
From the Pennsylvania Record: Reach Courts Reporter Nicholas Malfitano at nickpennrecord@gmail.com