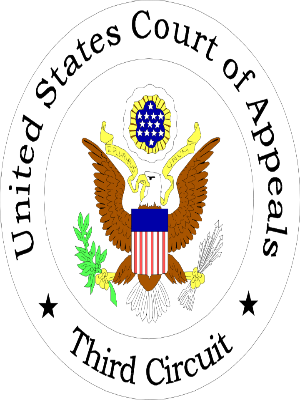 U.S. Court of Appeals for the Third Circuit
PHILADELPHIA – On May 5, a federal appellate court dismissed a litigant's fourth attempt at alleging numerous charges against Bank of New York Mellon (BNY Mellon), the City of Philadelphia, Bay View Loan Services and Prudential Fox & Roach Realtors, related to her home ownership.
In a per curiam decision, judges D. Michael Fisher, Kent A. Jordan and Thomas I. Vanaskie chose to uphold a prior verdict from the U.S. District Court for the Eastern District of Pennsylvania, which dismissed the fourth iteration of a complaint filed by Dorothy M. Hartman.
In this complaint, Hartman named as defendants BNY Mellon, Bay View Loan Services, the City of Philadelphia, Prudential Fox & Roach Realtors, and Prudential's employee Michael McCann. Hartman's claims encompass 20 years' worth of grievances, with some connected to the 2003 purchase of her home.
Among numerous charges, Hartman claimed the defendants "failed to disclose certain defects in her property, subjected her to excessive utility charges, directed sewage water into her basement, placed for-sale signs on properties around her home to reduce her home's value, vandalized her car, refused to allow her to refinance her mortgage, ruined her credit, picked up her trash separately from her neighbors', and committed unidentified hate crimes against her."
The defendants responded with a motion to dismiss for failure to state a claim, which was granted by the District Court. Hartman timely appealed to the Third Circuit, filing a motion to "request a default judgment, summarily vacate the District Court's judgment, and to bar an attorney from BNY Mellon from participating in the appeal."
"We agree entirely with the District Court's well-reasoned analysis. Turning first to Hartman's claims against BNY Mellon and Bay View Loan Services, while Hartman's complaint asserts claims of 'wrongful lawsuit,' libel, defamation, slander, inflicting emotional distress, and conspiracy to defame, she has presented no factual allegations to support those claims," the Third Circuit said.
The Third Circuit further stipulated Hartman's complaint did not aver the defendants acted with a discriminatory purpose, in connection with them allegedly violating the Fair Housing Act and the Equal Credit Opportunity Act by refusing to allow her to refinance her home due to her race.
"The complaint specifically states that BNY Mellon and Bay View Loan Services denied refinancing based on information provided by the City about Hartman's nonpayment of utility charges and the value of her home based on its zoning and classification. In these circumstances, she has failed adequately to plead a violation of the Fair Housing Act or the Equal Credit Opportunity Act."
Hartman's claims against the City fared no better in the appellate court.
"The vast majority of her claims sound in state law, but, with exceptions that are not pertinent here, the Pennsylvania Tort Claims Act grants the City immunity for all state torts," the Third Circuit said. "She asserted that the City retaliated against her for her previous complaints about the City's behavior, but has again failed to allege any facts tending to show the requisite causal connection."
Moreover, the Third Circuit continued, "The District Court properly dismissed Hartman's claim that the City committed race discrimination in violation of the 14th Amendment because she failed altogether to allege that the 'execution of a government's policy or custom, whether made by its lawmakers or by those whose edicts or acts may fairly be said to represent official policy, inflicted the injury.' Finally, Hartman's claims of disability discrimination are entirely conclusory and fail to "raise a right to relief above the speculative level."
The Court also dismissed Hartman's claims against Prudential and McCann.
"Hartman has failed to allege any facts that would support her claims of deceptive advertising, race discrimination, or disability discrimination. She does allege somewhat more clearly that these defendants improperly failed to disclose certain defects in the property to her," the Third Circuit said.
"However, under Pennsylvania law, an agent can be liable only if he or she has 'actual knowledge of a material defect that was not disclosed to the buyer or of a misrepresentation relating to a material defect," the Third Circuit said. "Hartman does not allege that Prudential or McCann had knowledge of the alleged defects, which she describes as 'latent and not readily identified,' or of a misrepresentation concerning such a defect."
"Accordingly, we will summarily affirm the District Court's judgment. We deny Hartman's pending motions," the Third Circuit said.
The appellees are represented by Joseph F. Riga of McCabe Weisberg & Conway, Dimitrios Mavroudis and Michael R. Miller of the City of Philadelphia's Law Department and Jason J. Sweet of Reger Rizzo & Darnall, all in Philadelphia.
U.S. Court of Appeals for the Third Circuit case 15-3818
U.S. District Court for the Eastern District of Pennsylvania case 2:13-cv-01329
From the Pennsylvania Record: Reach Courts Reporter Nicholas Malfitano at nickpennrecord@gmail.com