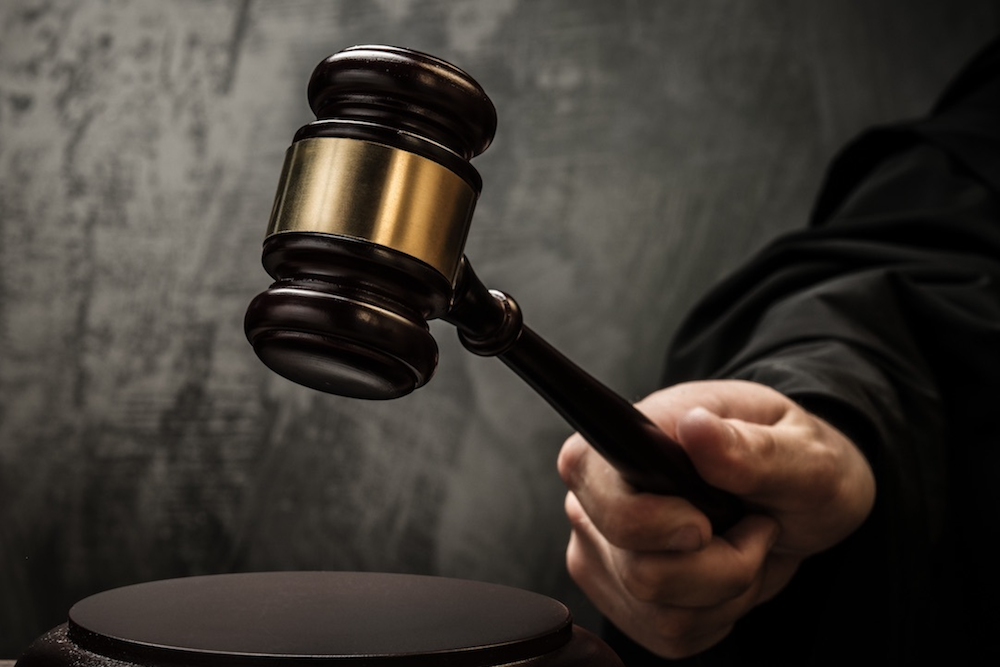 PHILADELPHIA - An Irish businessman who funded the pursuit of a multimillion-dollar Liberian judgment that was in contrast to a U.S. federal court ruling was a no-show at a Dec. 14 hearing, which had yet to determine an amount in sanctions he and his co-respondents may be liable for.
Further, U.S. District Court Judge Paul S. Diamond ordered one of the respondents connected to pursuing the judgment to surrender his passport to members of the U.S. Marshal's Office.
Diamond directed Samuel M. Lohman, a U.S. citizen who resides and works in Switzerland, to provide his passport to U.S. Marshals also present in the courtroom at the James Byrne U.S. Courthouse in Philadelphia, and to stay within the boundaries of the nine counties of the U.S. District Court for the Eastern District of Pennsylvania.
However, two other respondents did not attend the hearing despite being ordered to do so.
Lohman's co-respondents, British Virgin Islands lawyer Martin Kenney and Irish real estate developer Garrett Kelleher, also previously found in civil contempt of U.S. federal court in July, were not present at the hearing due to "jurisdictional issues," despite risking criminal contempt charges by their absence.
But, each man had their respective counsel appear to speak on their behalf and issued post-hearing statements through New York City attorney Joseph H. Lilly, III.
"I'm very disappointed with today's decision by the court and intend to appeal – all the way to the [U.S.] Supreme Court if necessary," Kelleher said. "By the time I was approached to help fund this case, a Liberian court had determined that CIGNA had violated Liberian law by not maintaining funds in the country to meet local claims."
Kelleher added that same Liberian court concluded a 1995 U.S. judgment against Abi Jaoudi and Azar Trading Corp. (AJA) did not need to be followed, because "it violated the absolute right in Liberia to trial by jury."
"I felt that the Liberian companies that had purchased policies from CIGNA deserved the right to pursue their claims in a neutral court, and they needed outside financing to do that. That's what I did. The case makes a travesty of justice for those Liberians, all but one of whom had no connection to the U.S. District Court and who now have little recourse to justice for the livelihoods they lost so many years ago," Kelleher said.
Case History
In 1991, AJA, owner of commercial property in Liberia, brought action against CIGNA Worldwide (CWW), in connection with damage the plaintiffs' commercial properties sustained in the Liberian civil war.
After a jury verdict for AJA, O'Neill reversed its findings and entered a judgment in favor of CWW, finding the property damage was subject to the policy's war risk exclusion.
However, AJA later refiled the case against CWW in a Liberian court and won a judgment of $66.5 million in 2000. When AJA tried to enforce the judgment, O'Neill issued an injunction in 2001, prohibiting any and all attempts to collect the $66.5 million judgment award in question.
The following year, a Liberian court reaffirmed the multimillion-dollar judgment and labeled O'Neill's injunction "unenforceable".
Judge Diamond says Kenney, a dual Irish and Canadian citizen based in the British Virgin Islands who practiced as a fraud and asset recovery lawyer, and Lohman, a United States citizen and a member of the Oregon bar with an office in Switzerland, "acted in concert to violate O'Neill's injunction."
In February 2005, Kenney and Lohman formed CC International Ltd., an entity to "obtain access to a court of neutral jurisdiction to determine the validity of their claims" – such as the enforceability of the $66.5 million Liberian judgment.
In return for CCI stock, AJA assigned CCI title to rights to receive proceeds from the enforcement of the enjoined Liberian judgment.
In November 2008, CWW filed a motion for contempt against AJA, a Liberian receiver, Lohman and others for violating O'Neill's injunction.
CWW also sought to identify the funders of the efforts to enforce the Liberian judgment. After a long discovery process, it was learned in August 2014 that Kelleher had invested $2.85 million in efforts to enforce the aforementioned Liberian judgment. On Nov. 12, 2014, CWW served Kelleher in Ireland with papers naming him as a contempt party.
Judge Diamond previously said the actions of AJA and the respondents it recruited "made repeated efforts to contravene this Court's judgment, nullify this Court's injunction, and defy this Court's orders," actions Diamond labeled as "an affront to the Courts of the United States."
Contempt Proceedings
Last August, CWW counsel detailed the compensatory relief damages sought from AJA and contemnors Lohman and Kelleher in this action as $14.6 million, with an additional $10.4 million being sought from Kenney.
Less money is sought from Kenney due to his previous payment of certain costs for litigation heard in the Cayman Islands with Chubb (formerly ACE). Chubb paid CWW's legal fees in that matter.
Further, the August motion from CWW indicated if the final judgment were approved, AJA and Lohman, Kenney and Kelleher would need to pay the funds, jointly and severally, within 30 days – and asked the Court for post-judgment interest to be levied in the form of a daily $10,000 fine imposed on behalf of the District Court, for each day the damages went unpaid.
If the damages did go unpaid, the motion also called for arrest warrants to be issued for Lohman, Kenney and Kelleher to be issued, if necessary.
Further, in the event any of the contemnors were unable to satisfy the judgment, were it to be approved, they would be required to submit a payment plan for said judgment within 14 days of its approval.
Diamond has not yet determined the amount in damages to be paid to CWW. At the Wednesday hearing, Diamond alluded to attorneys' fee claims sometimes being inflated and suggested CWW attempt to settle with the respondents, before starting his examination of what portions of the attorneys' fee award sought by CWW are reasonable and what portions are not.
On Wednesday, CWW counsel Donald W. Hawthorne requested Diamond "issue an order with teeth" to enforce the sanctions outlined in this case, and to retain jurisdiction of the matter to secure related judgments.
Hawthorne added CWW's counsel would like to see evidence of Lohman's assets, income and related documents and the opportunity to depose Lohman, a process Hawthorne assured the court would be conducted quickly and efficiently.
Diamond said Lohman was to remain in the Court's jurisdiction while the process of assessing his responsibility for damages in the instant case continues, but added he would consider the possibility of Lohman staying elsewhere in the U.S. during that time.
"I don't want him going to a place where discovery is more difficult to obtain," Diamond said.
Lohman's attorney, Mark E. Gottlieb, said his client possessed "relatively limited means" and the expense for Lohman to travel to Philadelphia, remain in the Court's jurisdiction during the disposition of this matter and pay sanctions associated with it was "a hardship."
Diamond countered he was "not satisfied" Lohman wouldn't be able to pay the sanctions in this case.
As for the surrender of Lohman's passport, Gottlieb referred to that action towards his client as "punitive in nature and an unreasonable restraint on his freedom," in addition to being "unconstitutional" – but Diamond brought up Lohman's prior refusal to engage in case discovery and invoking of foreign law, as reasons for taking such a severe action and preventing him to leave the country.
"I simply don't believe your client will return [to the U.S.], and I am taking his passport," Diamond said.
After the conclusion of the hearing, Gottlieb submitted a letter to Diamond stating the Court had not provided a set of conditions Lohman must meet to lift the travel restriction, nor had it set an end date for the travel restriction.
Gottlieb added Lohman would be made available this Friday for a deposition regarding his financial assets, and requested a telephone hearing after the completion of the deposition renewing the request to lift Lohman's travel restrictions and return his passport to him.
"As we indicated today, this travel restriction is a hardship for Mr. Lohman," Gottlieb said in a Dec. 14 letter. "He has no family or connections in Philadelphia. He must incur hotel and other travel expenses. This restriction makes it difficult, if not impossible, for Mr. Lohman to earn a livelihood in his legal practice which requires him to travel to other countries."
Appeal Coming
"Mr. Kenney did not attend the hearing today in order to, among other things, preserve his defenses in his home jurisdiction of the British Virgin Islands against the enforcement there of any judgment issued against him by the District Court," Lilly said.
Through Lilly, Kenney said, "I am deeply disappointed that the District Court has found reason to sanction me for my work on behalf of 23 African clients, who have been seeking justice from a wealthy multinational insurance company."
Kenney said he respects the U.S. legal system, but there are limits to every court's power.
"Under the principle of comity of nations, the U.S. legal system is not inherently superior to the Liberian legal system. I believe that conflicts between the judicial systems of sovereign countries should be resolved in a neutral forum, which is what I and my co-respondents have attempted to do (in the Cayman Islands, over two conflicting judgments, one from the USA and one from Liberia), and for which we now find ourselves sanctioned," Kenney continued.
Kenney concluded he and his fellow respondents "have done nothing wrong" in the case and intend to appeal the matter to the U.S. Court of Appeals for the Third Circuit, where he felt "confident" they would prevail.
U.S. District Court for the Eastern District of Pennsylvania case 2:91-cv-06785
From the Pennsylvania Record: Reach Courts Reporter Nicholas Malfitano at nickpennrecord@gmail.com