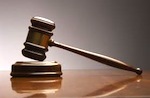 A Chester County company is seeking to have a federal judge order a Colorado business to fork over more than $140,000 in funds the plaintiff claims it is owed because the defendant defaulted on a contract.

Susquehanna Commercial Finance, Inc., which is located in Malvern, Pa., filed a complaint in U.S. District Court this week against Gold Plane Custom Cabinets, and Colorado residents John Geonetta and Reinhold Appelhaus, over money the plaintiff maintains it is owed relating to a commercial finance agreement the parties executed on Aug. 15, 2012, whereby Susquehanna Commercial would advance the defendants funds so they could acquire a Holzma Beam Saw.

The lawsuit states that as per the terms of the contract, the defendants would pay 60 monthly installments in the amount of $2,671.43 plus tax to make good on the loan.

The defendants ended up making eight payments under the terms of the contract, the complaint states, but defaulted by failing to pay the May installment and any payments due thereafter, leaving 52 months worth of payments remaining.

The plaintiff says it is owed $138,914.36 in monthly payments plus more than $860 in late charges and insurance reimbursement charges exceeding $1,700.

In addition to the more than $140,000 it says it is owed, the plaintiff also seeks to have the court order the defendants to pay attorney's fees, litigation costs and interest.

Susquehanna Commercial Finance also maintains that it is entitled to possession of the piece of construction equipment in the hands of the defendants.

The breach of contract suit was filed by Malvern attorney Brian C. Engelhardt, who appears to be a staff attorney for Susquehanna Commercial Finance.

The federal case number is 2:13-cv-05255-MSG.