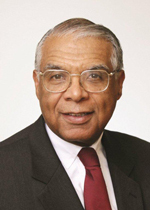 The Pennsylvania Bar Association will honor Philadelphia lawyer Nolan N.

Atkinson with the A. Leon Higginbotham Jr. Lifetime Achievement Award during the group's Minority Attorney Conference this spring.

The association stated that Atkinson, a partner at the Philadelphia office of Duane Morris and the firm's chief diversity officer, would receive the award during an April 11 luncheon.

The award recognizes the accomplishments of an attorney or jurist who has demonstrated dedication to the legal profession and the minority community through civil, community or legal service, according to a press announcement from the PBA.

The accolade is named for A. Leon Higginbotham Jr., a civic leader, author, academic and federal appellate judge who spent his career fighting against racial discrimination.

Atkinson, who is a member of Duane Morris' trial practice group, was named the law firm's first-ever chief diversity officer back in 2007, where he helps develop and roll out programs to increase recruitment of diverse attorneys throughout the law firm, both nationally and across the globe.

Atkinson, who also chairs the law firm's Diversity and Inclusion Committee, helped found the Philadelphia Diversity Law Group Inc., which is a consortium of law firms and corporations that seek to increase ethnic and racial diversity among Philadelphia's large law firms, according to the PBA.

He has also served as a co-chairman of the Conference of Minority Partners in Majority Corporate Law Firms, which is a constituent entity of the American Bar Association's Commission on Racial and Ethnic Diversity in the Profession, according to the bar association.

Atkinson, who often lectures on the topic of increasing diversity in the legal profession, obtained law degrees from the University of Pennsylvania Law School and Howard University School of Law, his professional biography states.

Before he joined Duane Morris, Atkinson served as a partner at the Philadelphia law firms Atkinson & Archie P.C. and Zack, Myers & Atkinson.

He was managing partner of Atkinson & Archie from 1984 to 1991.

According to his biography, Atkinson, who remains an active litigator, has taught trial advocacy at the University of Pennsylvania Law School and at Temple University School of Law.

He also served 12 years as a township commission in Lower Merion, Pa., which is located just outside of Philadelphia.

During the course of his legal career, Atkinson has specialized in commercial and insurance litigation, personal injury matters, and products liability and toxic tort cases.

He has also represented numerous hospitals and doctors in health-related litigation.