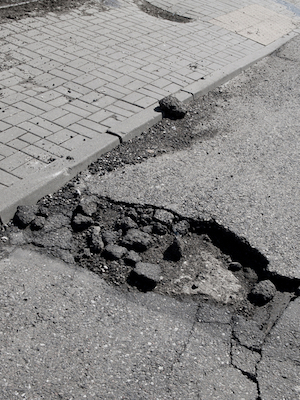 PHILADELPHIA — A Florida woman is suing two Philadelphia hospitals and the city, alleging negligence after she she slipped and fell.
Barbara Martin of Pinellas County filed a lawsuit Feb. 4 in U.S. District Court for the Eastern District of Pennsylvania against Abbot Inc, Thomas Jefferson University, also known as Thomas Jefferson University Hospital, the city of Philadelphia and Wills Eye Hospital, alleging negligence.
According to the complaint, on Oct. 20, 2014, Martin was walking on a Philadelphia sidewalk on Walnut Street, near the premises of Abbot, Thomas Jefferson and Willis, when she encountered a dangerous and defective portion of pavement. The suit says the plaintiff was caused to slip, trip, stumble and fall, resulting in severe injuries to her right hip, hands, knees, shoulders, back and neck, as well as her nerves and nervous system, the suit states.
The plaintiff alleges the defendants were responsible for maintaining the sidewalk in a safe condition.
Martin seeks a jury trial, damages for more than $50,000, interest, costs and reasonable attorney fees. She is represented by attorneys Brad S. Tabakin and Richard A. Wolfe of Tabakin Wolfe LLP in Plymouth Meeting.
U.S. District Court for the Eastern District of Pennsylvania Case number 2:16-cv-00574