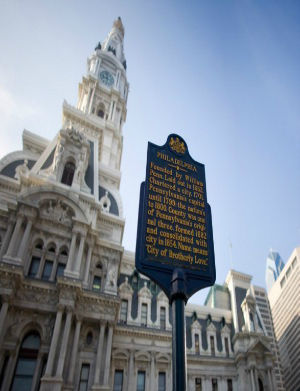 Philadelphia City Hall
PHILADELPHIA – An attorney for a defendant in a motor vehicle accident negligence action has levied claims of improper venue in its filing, feeling Montgomery County would be a more appropriate setting for the case to be heard.
In a May 7 motion of preliminary objections, Anthony F. Zabicki Jr. pointed out to the Philadelphia County Court of Common Pleas that the subject accident behind the litigation filed by Pennsauken, N.J., resident Henry Ehmann occurred in Montgomery County, and should thus be transferred to their Court of Common Pleas.
A hearing in this action was set for Tuesday in Court chambers at Philadelphia City Hall.
Ehmann's lawsuit alleges on April 2, 2013, he was traveling eastbound on Route 63 near Twining Road in Upper Moreland Township, Montgomery County. At that same time, Philadelphia resident and defendant Sinclair Agbadzi Mensah was exiting a driveway located at 3701 Welsh Road, in order to turn left onto the roadway.
According to the lawsuit, in making that left turn, Mensah's vehicle struck Ehmann's. Ehmann alleges Mensah's failing to signal his turn, failing to yield and careless operation of his motor vehicle caused the accident.
Ehmann claimed to have suffered a variety of injuries in the crash, including neck and head injuries, a cracked dental plate, three swallowed teeth and nervous system shock. In addition to racking up sizable medical bills and an alleged loss of life's pleasures, Ehmann's Dodge Caravan was also totaled in the accident.
The plaintiff is seeking judgment in excess of arbitration limits, plus court costs and fees, interest and other relief.
The plaintiff is represented by Timothy R. Hough of Jaffe & Hough in Philadelphia.
The defendant is represented by Zabicki, Jr., also in Philadelphia.
Philadelphia County Court of Common Pleas case 150302449
From the Pennsylvania Record: Reach Courts Reporter Nicholas Malfitano at nickpennrecord@gmail.com