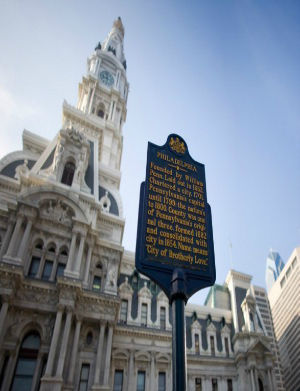 Philadelphia City Hall
PHILADELPHIA – One defendant in a potential multi-million dollar negligence action is claiming he never received service of the default judgment entered against him and has petitioned the Philadelphia County Court of Common Pleas to open said judgment.
William Jon Henry Taylor, defense counsel for Chuck W. Chiu of Philadelphia, filed a petition to open a default judgment on March 31 in the amount of $9 million against him and two other defendants, in a negligence lawsuit filed by fellow Philadelphia resident Abigail Rosario.
Taylor argued Chiu is a Chinese immigrant unable to speak English who was never properly mailed notice of the default judgment – that it was instead mailed to the office of Philly Management Group, and not Chiu's home address in Philadelphia.
Taylor claimed Rosario was aware of Chiu's home address since a copy of the original complaint was sent there, and questioned why notice of the default judgment didn't likewise follow.
Taylor stated Chiu had "no ownership involvement or interest" in the property where Rosario's apartment was located, and was instead owned by the case's other defendants.
A hearing on this matter was set for Aug. 7 at Philadelphia City Hall in Court chambers.
Rosario filed suit in July 2007 against Northwood Manor of Lakewood, N.J., plus Philly Management Group and Chiu, both of Philadelphia, with regards to a fall she said she suffered earlier that same year.
On March 11, 2007, Rosario claimed to fall due to depressions in the carpeting and uneven flooring of the apartment she rented on Foulkrod Street in Philadelphia, suffering injuries to her face, head and spine that required surgery. Rosario claims it was negligence on the part of all defendants that caused her accident.
After a praecipe to determine a default judgment was filed on March 24, 2008, damages were later assessed on Dec. 29, 2008 in the amount of $9 million and re-assessed on Dec. 21, 2009 for that same amount.
The plaintiff is seeking separate judgments in excess of $50,000 from all defendants, plus interest, court costs and attorney's fees.
The plaintiff is represented by Thomas A. Karpink, Jeffrey R. Lessin and Drew Salaman of Salaman Henry, all in Philadelphia.
The defendants are also represented by Taylor, in Philadelphia.
Philadelphia County Court of Common Pleas case 070700037
From the Pennsylvania Record: Reach Courts Reporter Nicholas Malfitano at nickpennrecord@gmail.com