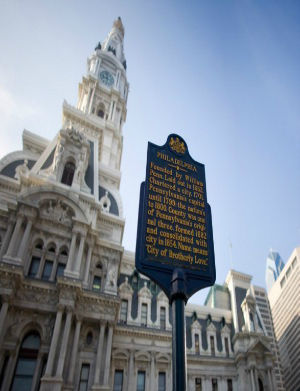 Philadelphia City Hall
PHILADELPHIA – An incident at Cabrini College resulting in extensive damage to a Philadelphia woman's automobile and injuries to her may be sent to Delaware County, if defense counsel's motion for venue transfer is successful.
Attorneys for Cabrini College and Missionary Sisters of the Sacred Heart in Radnor filed preliminary objections on June 1, seeking to transfer the lawsuit filed against their clients by Philadelphia residents Kimaya Coursey and Kim Coursey. This was due to both the subject incident taking place and the defendants being located in Delaware County.
A hearing on this matter was set for Tuesday at Philadelphia City Hall, in Court chambers.
The Courseys' lawsuit is in connection with an incident that took place on May 9, 2014. On that day, Kimaya Coursey was a visitor to Cabrini College and driving a vehicle owned by Kim Coursey. When Kimaya was leaving the campus, the steel exit gates suddenly lowered without warning, crashing into and forcibly compressing Kimaya's vehicle, with her still inside.
In addition to the exterior damage, the driver's side window and front windshield shattered, propelling flying glass onto Kimaya, and the interior mechanism for the rearview mirror was broken and dislodged. The plaintiffs aver the collective negligence of the defendants in not ensuring their exit gates were in proper working order caused the accident.
Further, the Courseys' lawsuit alleges Kimaya suffered physical injuries from the flying glass and psychological trauma in the accident, including fear and anxiety associated with driving through exit gates.
The plaintiffs are each seeking judgment not in excess of $50,000, plus interest and court costs. Specifically, Kim Coursey's judgment seeks to cover expenses for her loss of property, property damages and other expenses.
The plaintiffs are represented by Jerry Lyons of Joseph Chaiken & Associates, in Philadelphia.
The defendants are represented by Jonathan K. Hollin, Mary J. Pedersen & Dylan F. Henry of Powell, Trachtman, Logan, Carrle & Lombardo in King Of Prussia, plus Brendan M. Howton of William J. Ferren & Associates, in Philadelphia.
Philadelphia County Court of Common Pleas case 150301814
From the Pennsylvania Record: Reach Courts Reporter Nicholas Malfitano at nickpennrecord@gmail.com