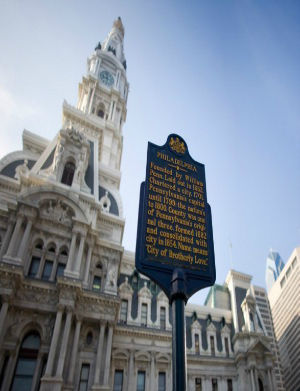 Philadelphia City Hall
PHILADELPHIA – Defendant counsel for an office complex named in a slip-and-fall negligence action believe a complaint initiated against it was filed in an improper venue and not served correctly.
Elizabeth F. Walker made a motion for preliminary objections on May 28, to argue the lawsuit brought by Philadelphia resident Donna Wasserbach against GPX Plymouth Office Properties should not have been filed in Philadelphia County, but rather in Montgomery County.
Walker cited Pennsylvania state law to make her case, asserting litigation may only be brought where a defendant regularly conducts business, or where the action arose.
Walker claimed since GPX Plymouth Office Properties has a registered address in Haverford and that the subject incident took place in Plymouth Meeting (both located in Montgomery County), venue in Philadelphia County was improper. Walker further argued proper service of the suit had not been effectuated to the defendants.
A hearing in this matter was set for Wednesday at Philadelphia City Hall, in Court chambers.
On March 17, 2014, Wasserbach allegedly slipped and fell on ice and snow in the parking lot of the GPX Plymouth Office Properties building, in Plymouth Meeting – an incident she claimed was due to the negligence of the defendants and their failure to inspect, maintain and properly clean their premises of ice and snow.
Wasserbach claimed to suffer severe and permanent injuries to her head, neck and back, internal injuries, plus aggravation and exacerbation of previous injuries to an unknown extent.
The plaintiff is seeking a sum in excess of $50,000 plus pre- and post-judgment interest, court costs and other relief.
The plaintiff is represented by Joel A. Greenberg of Lundy Law, in Philadelphia.
The defendant is represented by Walker, of Campbell, Lipski & Dochney, in Philadelphia.
Philadelphia County Court of Common Pleas case 150403103
From the Pennsylvania Record: Reach Courts Reporter Nicholas Malfitano at nickpennrecord@gmail.com