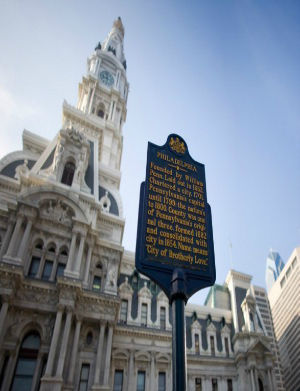 Philadelphia City Hall
PHILADELPHIA – Defense attorneys for a Swiss billionaire and prominent donor to the Clinton Foundation are accusing a former employee who filed a sexual abuse lawsuit against him of violating a settlement agreement and are seeking heavy sanctions.
Counsel for Hansjorg Wyss, a Swiss billionaire whose HJW Foundation has an address listed in West Chester and who has donated $5 million to the Clinton Foundation, are asking to have Boulder, Colo., resident Jacqueline Long held in contempt and face sanctions for "continued refusal" to obey several court orders.
The petition for contempt was filed under seal on June 17 along with a subsequent brief on Aug. 4, according to court records.
Wyss' counsel claim Long defied the mandates of a May 2013 settlement agreement, which in part stated Long was to never publicly reveal any details of the settlement and have no contact with Wyss or his family members.
Defense attorneys claimed Long, in breach of the settlement, did attempt to contact Wyss' family, revealed the settlement amount in an article published on June 8 in The Daily Caller (reported to be $1.5 million), and used that article and a subsequent follow-up piece published there on July 29 to make "disparaging" allegations towards Wyss and disclose confidential information "which contained many blatant falsehoods."
The Court found Long in contempt of court orders on July 20.
Defense counsel proposed a per diem fee of $200 and a lump sum of $5,000 for each breach of the settlement agreement supposedly committed by Long, until Long returns the settlement amount in addition to $67,973.99 in attorney's fees.
Per the petition, if the total funds were not paid within 14 days, defense counsel petitioned for there to be a warrant issued for Long's arrest.
A hearing in this matter was slated for Friday in Court chambers, at Philadelphia City Hall. The hearing will be limited only to the matter of sanctions.
Long, a former development officer at the HJW Foundation, accused Wyss of sexually abusing her over the period of years she was employed at the foundation. Long said she was forced to engage in sexual relations with Wyss, in return for his financial donations to various nonprofit causes.
The defendants in this matter say proper service was not completed and apart from a Writ of Summons, a formal complaint was never filed by Long. From there, the matter later proceeded into settlement negotiations, and a confidential agreement was reached May 15, 2013.
Then, Long sent the defendants a second agreement, revising the language of the original agreement's reference to tax treatment. At the time, the defendants asserted Long should be held to the original settlement agreement, but are now seeking she be found liable for non-repayment of the reported settlement funds, non-payment of attorney's fees and breaking of the confidential settlement agreement.
The plaintiff is represented by John F. O'Riordan, in Philadelphia.
The defendants are represented by Carolyn P. Short, Nipun J. Patel and Anne E. Rollins of Reed Smith, also in Philadelphia.
Philadelphia County Court of Common Pleas case 120902966
From the Pennsylvania Record: Reach Courts Reporter Nicholas Malfitano at nickpennrecord@gmail.com