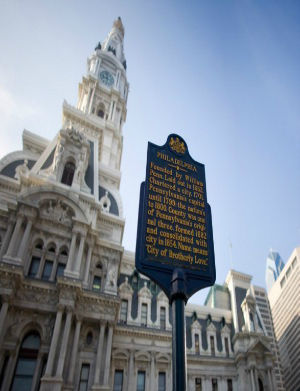 Philadelphia City Hall
PHILADELPHIA – The plaintiff's attorney in a slip-and-fall lawsuit has filed a motion to withdraw their appearance, citing non-cooperation with his client.
David B. Sherman of Solomon Sherman & Gabay in Philadelphia, filed a motion with the Philadelphia County Court of Common Pleas on Aug. 18, explaining that his client, Willana Small of Philadelphia, has dropped out of contact with him despite his numerous attempts to locate and reach her.
Sherman said Small has refused to cooperate or respond to letters, phone calls and other investigative methods, made in the attempt to locate her and continue the pending litigation.
A hearing in this matter was set for Thursday at Philadelphia City Hall, in Court chambers.
Small's lawsuit, filed in December, is in regards to a fall she allegedly sustained nearly two years prior. The complaint alleged on Jan. 28, 2013, Small fell on defendant Estella Palmore's South Cecil Street property, due to an accumulation of ice and snow. Small claimed Palmore's failure to inspect, maintain or repair the dangerous condition on her premises caused the incident.
Small sustained left ankle, left leg and left knee injuries, including fracture of her distal fibula, left ankle strain and sprain, left knee strain and sprain, and other injuries.
The plaintiff is seeking a sum not in excess of $50,000 in this case.
The defendant has no legal representation, according to court records.
Philadelphia County Court of Common Pleas case 141201209
From the Pennsylvania Record: Reach Courts Reporter Nicholas Malfitano at nickpennrecord@gmail.com