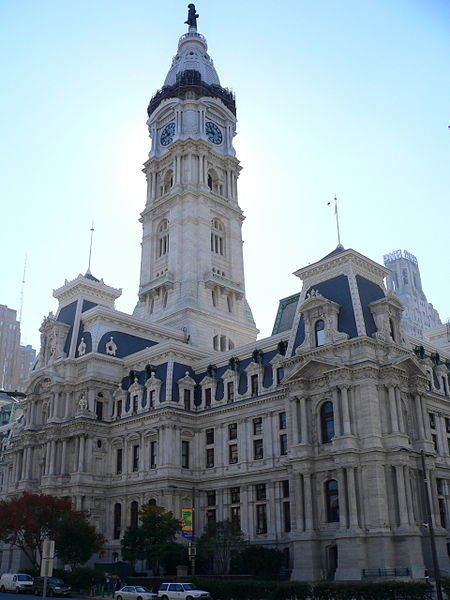 Philadelphia City Hall
PHILADELPHIA – Plaintiff counsel for a trucker injured in a refueling accident seeks to withdraw from the case on the basis of a lack of cooperation from one of the plaintiffs and a related conflict of interest.
On July 10, Brian E. Fritz filed a motion to withdraw his appearance because one of his clients, Robyn Kelly, could not be located. Fritz explained the suit brought by Croydon residents Michael and Robyn Kelly had a stay of proceedings from March 2012 to August 2014, and during that time the spousal plaintiffs divorced.
When the case resumed, Michael claimed not to know Robyn's whereabouts, but Fritz explained he spoke with Robyn on May 30 and the resulting conversation led him to recognize a conflict of interest and irreparable differences that necessitated his withdrawal. Fritz added Robyn had not responded to follow-up calls and letters.
In addition, defense counsel Nicholas A. Cummins, Christopher P. Lagay and Matthew P. Mann filed a series of motions for summary judgment on Sept. 8, explaining the defendants owed the plaintiff no duty of care, that the supposedly-defective driver's side door of Kelly's vehicle was not the reason for his injuries, and that the defendants possessed no liability for the accident.
A hearing in this matter is set for Thursday in court chambers, at Philadelphia City Hall.
On Aug. 4, 2009, Michael Kelly was working as a long-haul tractor-trailer driver on behalf of the defendants. Kelly stopped at a service station in Massachusetts to refuel his tractor-trailer, but couldn't exit through the driver's side door – which he asserts was defective. Kelly claimed he was forced to "assume an awkward position" to exit the trailer's cab through the passenger's side door, and fell in the process.
Kelly became trapped in the space the trailer's step-up platform and its fuel tank, sustaining permanent injuries in the process. He suffered torn ligaments in his hand, arm and shoulder, for which the hand and shoulder injuries required corrective surgeries.
The Kellys' lawsuit brought charges of negligence against WB (U.S.) Portfolio, the Land & Sea defendants, the KPK defendants, Potomac Supply Corporation, William T. Carden Jr., H. Wade Carden Jr., Commonwealth Wood Preservers and HWC Transportation, and separate charges of negligence against the Penske defendants.
Currently, several defendants have been dismissed from the case, with the exception of the following: KPK Development Inc. in King of Prussia; Land & Sea Forest Products of Pennsylvania Corporation in Fairless Hills; Potomac Supply Corporation, William T. Carden Jr. and H. Wade Carden Jr. in Kinsale, Va.; Penske Truck Leasing Company in Fairless Hills; and Commonwealth Wood Preservers in Fairless Hills and Philadelphia.
The plaintiffs are seeking separate sums, jointly and severally, in excess of $50,000 in compensatory damages, delay damages, plus interest and costs from all defendants in this case.
The plaintiffs are represented by William A. Weiss and Michelle E. Ashcroft of Saltz Mongeluzzi Barrett & Bendesky, plus Robyn L. Goldenberg of Fritz & Goldenberg, all in Philadelphia.
The defendants are represented by Matthew P. Mann and Charles B. Stokes of Barry McTiernan & Wedinger in Trevose; Christopher P. Lagay and Joseph M. Oberlies of Connor Weber & Oberlies; plus Nicholas A. Cummins, all in Philadelphia.
Philadelphia County Court of Common Pleas case 110800368
From the Pennsylvania Record: Reach Courts Reporter Nicholas Malfitano at nickpennrecord@gmail.com.