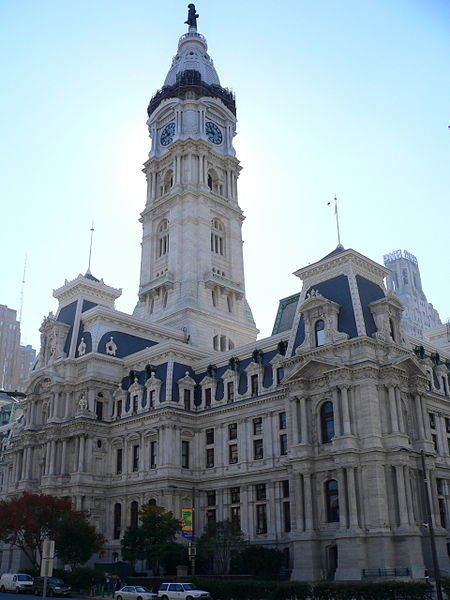 Philadelphia City Hall
PHILADELPHIA – A defendant in a banking debt case wants the Philadelphia County Court of Common Pleas to note the payment of the judgment, and assist in the return of funds they believe were overpaid.
Jacqueline Brisbane filed a motion to mark payment of a judgment as satisfied. Plaintiff Colombo Bank of Rockville, Md., held a debt of $242,182.46 over the defendants, Brisbane and Ellsworth Commons of Philadelphia, according to court records.
In order to relieve the debt, a property at 1345 Ellsworth Street was sold for $270,193.35. However, the defendants claim no accounting had been made for the difference of $28,010.89.
In Pennsylvania, judgments are paid at an annual interest rate of 6 percent if no other agreement is in place – which in this case, would result in an amount of $14,400. Added to the prior debt payment, it results in a total amount of $256,582.46. Brisbane contends the remaining $13,610.89 is an over-payment and needs to be returned to the defendants.
A hearing in this matter was set for this past Monday at Philadelphia City Hall, in Court chambers.
On Jan. 13, 2011, the suit says Ellsworth owed a debt to Colombo Bank and to resolve it, executed and delivered a note to Colombo in the amount of $602,000. The note contained the signature of Ellsworth Properties general partner Ferdinand Risco and managing members of that organization, authorizing a confession of judgment.
Moreover, Brisbane executed and delivered a signed surety agreement to the plaintiff guaranteeing payment of the note, but the judgment had not been entered on either the note or surety agreement. The plaintiff alleges the defendants did not abide by both documents, leaving them in default.
In connection with said default, Colombo Bank wishes to recover $242,182.46 in real debt, divided into the following categories:
- Principal as of Feb. 28, 2014: $201,369.09
- Interest through Feb. 28, 2014: $18,939.87
- Appraisal: $1,660.00
- Attorney's Fees & Disbursements: $20,013.50
- Release Fee: $200.00
The plaintiff is seeking the aforementioned sum, jointly and severally, and in the alternative, with additional interests and costs, in this case.
The plaintiff is represented by Jerrold S. Kulback of Archer & Greiner, in Haddonfield, N.J.
The defendants are represented by John J. Hubbert III and Jonathan J. Sobel, both in Philadelphia.
Philadelphia County Court of Common Pleas case 140401260
From the Pennsylvania Record: Reach Courts Reporter Nicholas Malfitano at nickpennrecord@gmail.com