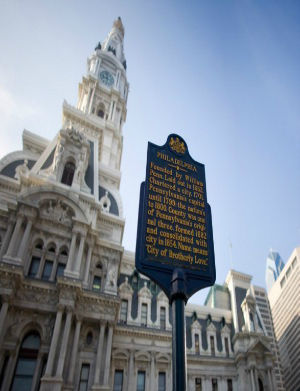 Philadelphia City Hall
PHILADELPHIA – An attorney for a Schwenksville couple involved in a motor vehicle accident wants the case transferred to the Montgomery County Court of Common Pleas, arguing improper venue.
Jacqueline S. Ware filed a motion for preliminary objections on Sept. 1, claiming improper venue and seeking the aforementioned transfer to Montgomery County. Ware asserted defendants Ryan Fogerty and Cindy L. Fogerty were residents of Montgomery County at the time of the accident, and the case can only be heard in a place where action arose or where parties may be served.
Ware said since the Fogertys have never resided in Philadelphia and no supporting evidence of why the case should be heard there was provided in the complaint, the venue is improper.
A hearing in this matter was set for Wednesday in Court chambers, at Philadelphia City Hall.
On Aug. 3, 2013, plaintiffs Julia A. Hennessey of Warminster and Kim Trumbull of Paulsboro, N.J., were traveling westbound on the Walt Whitman Bridge, towards Philadelphia. The complaint adds Trumbull had recently been discharged from a hospital following shoulder surgery.
At the same time and place, the defendants were also traveling westbound on the Walt Whitman Bridge, when Ryan Fogerty's allegedly negligent driving caused a rear-end collision. When police arrived at the accident scene, Fogerty is said to have admitted to the responding officer that he had been distracted by his car's navigation system, and was cited for careless driving, the complaint says.
The plaintiffs are seeking, jointly and severally, damages in excess of arbitration limits, plus interest, costs and attorney's fees in this case.
The plaintiffs are represented by Brian L. Lafferty of Laffey Bucci & Kent, in Philadelphia.
The defendants are represented by Ware of Snyder Barrett & Wilkinson, also in Philadelphia.
Philadelphia County Court of Common Pleas case 150703512
From the Pennsylvania Record: Reach Courts Reporter Nicholas Malfitano at nickpennrecord@gmail.com