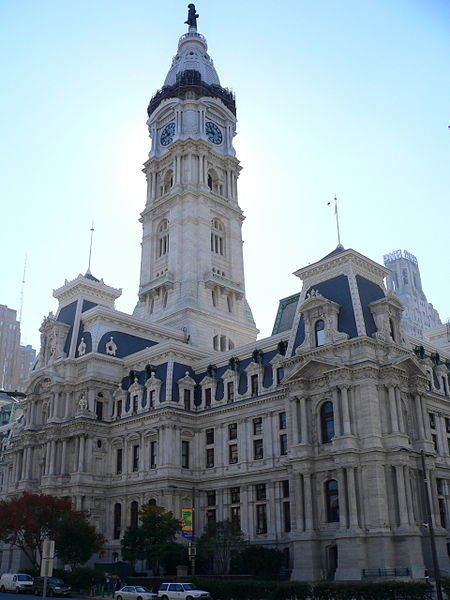 Philadelphia City Hall
PHILADELPHIA – Counsel for a plaintiff in a Philadelphia-based car crash case is seeking to exit the related litigation due to "irreconcilable differences" and lack of contact with that plaintiff.
Kelsey L. Gaynier filed a motion to withdraw appearance on Jan. 20, due to her difficulty in establishing and maintaining contact with plaintiff Iman Amos. Amos was scheduled to participate in a deposition on Dec. 30, but did not appear or respond to subsequent attempts at contact on the part of Gaynier. Gaynier then sent Amos a letter on Jan. 7 informing him of her desire to withdraw as his counsel.
Due to these irreconcilable differences, Gaynier requested a 60-day stay of all proceedings, in order for Amos to have sufficient time to seek new counsel. Gaynier and her firm Joseph Chaiken & Associates, planned to cooperate fully with that new counsel and provide them with access to records pertaining to Amos's case.
A hearing in this matter was set for Thursday in Court chambers, at Philadelphia City Hall.
On Sept. 21, 2013, Alex Peralta was traveling on the 4600 block of Front Street in Philadelphia, when, according to the lawsuit, he operated his vehicle carelessly and struck a different vehicle that plaintiffs Price and Amos were entering at the time.
The suit says both Alex and Dahiris Peralta were negligent in allowing an intoxicated person to operate their vehicle, and to do so in such a reckless and careless manner.
The plaintiffs allegedly suffered injuries to their necks, backs, legs and bodies, plus the muscles, tissues and functions thereof. Defendant Ada Cottman allegedly owned the vehicle Price and Amos were entering at the time of the collision.
The plaintiffs are seeking damages in excess of $50,000 in this case on four separate counts: negligence against the Peraltas, failure to pay insurance benefits on the part of defendant GEICO (Cottman's insurance provider), punitive damages and loss of consortium on the part of plaintiff Dominique Brantley, spouse of Price.
The defendants are represented by Platte Moring III of White & Williams and Raul I. Rivera, both in Philadelphia, plus Sean P. Buggy of King of Prussia.
Philadelphia County Court of Common Pleas case 150601640
From the Pennsylvania Record: Reach Courts Reporter Nicholas Malfitano at nickpennrecord@gmail.com