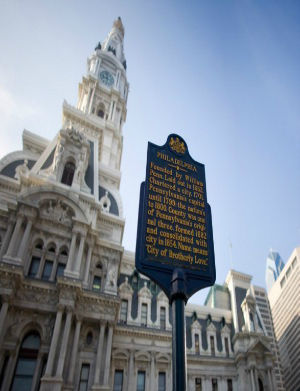 Philadelphia City Hall
PHILADELPHIA – If a defense counsel motion is successful, a Croydon couple's negligence suit against a local ambulance squad will be headed to the Bucks County Court of Common Pleas.
Stephen Ledva Jr. filed a motion for preliminary objections on Dec. 4, for reasons of improper venue. Ledva argued the property and location of plaintiff Colleen Blount's fall were in Newtown, located in Bucks County, in addition to the misidentification of the defendant as "Newtown American Legion Ambulance Squad, Inc."
Ledva also noted defendant Wesley L. Robinson as deceased for some time, and the defendants' lack of knowledge as to who listed defendant Jane Alligham was or why she is named in this lawsuit. Further, Ledva also said all parties to this case reside and/or are based in Bucks County.
A hearing in this matter was set for Wednesday in Court chambers, at Philadelphia City Hall.
On Feb. 18, 2014, Colleen Blount stepped out of her parked vehicle into the parking lot of the Newtown Ambulance Squad and subsequently fell, due to ice and snow in the parking lot, the complaint says. Blount alleged the collective negligence of the defendants caused injuries.
Blount allegedly suffered strain and sprain of the lumbar spine superimposed upon degenerative changes, post-traumatic lumbar radiculopathy, lower back injury requiring laminectomy, back pain and back contusion with nerve damage.
Blount and her husband, David Blount, filed suit against Newtown Ambulance Squad, Newtown residents Joseph Swerk, Donald P. Smith and Robinson, in addition to Alligham of Lake Mary, Fla.
The plaintiffs are seeking damages in excess of $50,000 from each defendant in this case, while David Blount seeks an equal amount for loss of consortium.
The plaintiffs are represented by G. Lawrence DeMarco of DeMarco & DeMarco, in Philadelphia.
The defendants are represented by Ledva, of Mintzer Sarowitz Zeris Ledva & Meyers, also in Philadelphia.
Philadelphia County Court of Common Pleas case 151002363
From the Pennsylvania Record: Reach Courts Reporter Nicholas Malfitano at nickpennrecord@gmail.com