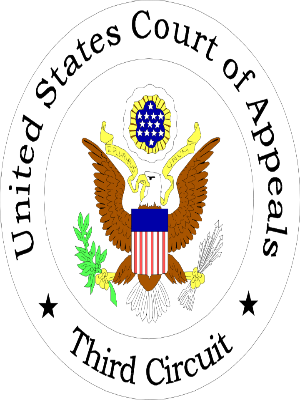 U.S. Court of Appeals for the Third Circuit
PHILADELPHIA – The U.S. Court of Appeals for the Third Circuit has ruled in line with the U.S. District Court for the Eastern District of Pennsylvania in determining snow to be an "obvious" hazard which caused a yard jockey to fall and become injured.
On behalf of himself and fellow Third Circuit judges Thomas L. Ambro and Anthony J. Scirica, Judge Kent A. Jordan issued a ruling Friday that upheld the previous granting of summary judgment to appellee Rocktenn CP, LLC, and against appellants Robert L. King, Jr. and Doris Regina King.
In his complaint, Robert King states he was employed as a yard jockey for Lily Transportation and working at a Philadelphia site owned and operated by Rocktenn. This site consisted of several loading docks and a warehouse facility.
In his duties as a yard jockey, it was King's job to hook and unhook trailers in order to move them in and out of the loading dock area.
King reported for work on the afternoon of Jan. 27, 2011, after the Philadelphia area had experienced significant snowfall. After taking a look around the premises, King said he felt it was "safe to do his job that day."
According to the lawsuit, some hours later after more snowfall had taken place, King was assigned to remove a trailer positioned at one of the loading docks, so that it could be replaced with another trailer in that same position.
To complete this task, King had to hook the trailer onto a tractor. Because the overhead light affixed to the warehouse building is on the passenger side of the tractor, the lawsuit claimed it was dark on the driver's side where King had to hook in the trailer.
King was allegedly grasping a "hold bar" attached to the tractor with his left hand in order to steady himself while hooking the tractor to the trailer.
After successfully completing the hook-up, King allegedly slipped while "maneuvering" to get back into the tractor. Upon slipping, all of King's weight shifted onto his left shoulder causing a "pop" and King to fall, the lawsuit says.
However, King finished both his scheduled shift in addition to working overtime before his relief arrived, at which point he sought medical attention. Though initially diagnosed as a sprain, later MRI tests confirmed tears in King's shoulder which required surgical treatment, says the lawsuit.
The Kings' lawsuit claimed Rocktenn was negligent in maintaining the premises to keep both it and related work equipment clear of snow and ice, which they say was the primary causation factor in King's fall from the tractor.
"Because King did not have knowledge of ice in the exact location where he fell, he argues that he could not have assumed the risk of a fall and injury," Jordan said. "That position, however, ignores both the Pennsylvania Supreme Court's jurisprudence regarding what constitutes 'knowledge' and the disjunctive nature of the 'known or obvious' test."
Jordan added the property owner could reasonably rely on King and the other yard jockeys to act carefully, discover hazards, and take the appropriate steps to protect themselves from the danger inherent in those same snowy and icy conditions.
"Indeed, King testified that it was part of his responsibility to inspect the yard at the beginning of his shift, and that a procedure was in place whereby he could report ice or other unsafe conditions he discovered and have them rectified. King made no such requests. He said that 'it looked like a regular, safe day to do [his] job," Jordan stated.
"King's testimony confirmed that 'on most occasions' following snow storms, 'between the trailers there would still be snow and ice,' and that 'anybody working [on the day of the incident] should have known there was snow and ice between those trailers," Jordan commented, calling the danger in such a setting "obvious".
Jordan concluded by affirming the District Court ruling.
"The District Court was thus correct in determining that reasonable minds could not differ in concluding that the danger presented by the snow and ice between trailers was 'known or obvious,' and the Court properly granted Rocktenn's motion for summary judgment," Jordan said.
The plaintiffs were represented by Joseph J. Urban of The Law Offices of Vincent J. Ciecka in Pennsauken, N.J.
The defendant was represented by Gregory M. Stokes and G. Daniel Bruch, Jr. of Swartz Campbell in Philadelphia.
U.S. Court of Appeals for the Third Circuit case 15-2300
U.S. District Court for the Eastern District of Pennsylvania case 2:13-cv-06663
From the Pennsylvania Record: Reach Courts Reporter Nicholas Malfitano at nickpennrecord@gmail.com