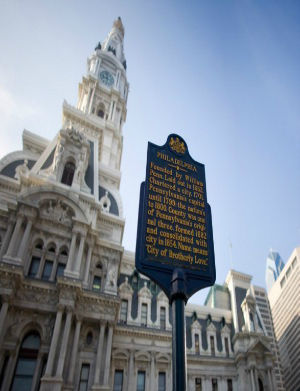 Philadelphia City Hall
PHILADELPHIA – A judicial order from the Philadelphia County Court of Common Pleas has rendered the seeking of sanctions against a co-defendant in a premises liability lawsuit first filed nearly a decade ago, as moot.
Judge Linda Carpenter declared a hearing connected to a defense motion for sanctions as moot, since the parties involved did not appear at Wednesday's scheduled hearing on that motion.
On Feb. 7, an arbitration award was found in favor of plaintiff Louis Nuccio for $40,000 in premises liability damages for injuries suffered near the property of Pa Chhinsong and Po Adar So and the City of Philadelphia.
The arbiters also found a $40,000 cross-claim by the City against Chhinsong, whose appeal in the matter was quashed on Jan. 9, 2008 by Philadelphia County Court of Common Pleas Judge Allan L. Tereshko. The award for Nuccio against the City was satisfied on Jan. 30, 2008, according to court records.
The City seeks judgment against Chhinsong in the principal amount of $40,000, plus $15,600 in interest from Aug. 7, 2007 onward.
Salaman filed a motion for sanctions on Nov. 19, as the defendants did not respond to interrogatory and document requests. Salaman seeks sanctions from the defendants consisting of a daily fine of $100 to the City for every day they do not comply with the prior court orders, plus counsel fees of $250.
The plaintiffs are represented by Steven A. Liss in Philadelphia.
The defendants are represented by Jeffrey P. Curry and Salaman of Salaman Henry, also in Philadelphia.
Philadelphia County Court of Common Pleas case 061100282
From the Pennsylvania Record: Reach Courts Reporter Nicholas Malfitano at nickpennrecord@gmail.com