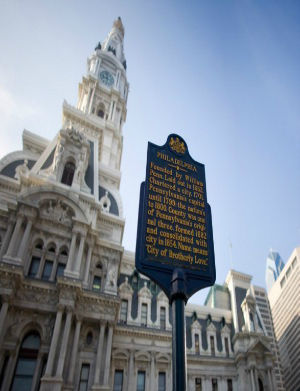 Philadelphia City Hall
PHILADELPHIA – Irreconcilable differences and a breakdown in communication have led a member of defense counsel to exit a car crash lawsuit.
Robert J. Baccari filed a motion to withdraw his appearance on Jan. 20, seeking to exit representing defendant Galaxy Auto Sales and Tags. The company's manager Andre Richardson retained Baccari on Sept. 21, and signed an agreement where he was required to pay an initial retainer and subsequent legal fees, but Baccari said this did not take place, even after he informed Richardson of the arrangement.
Richardson terminated Baccari's services on Nov. 15, even though Baccari was required to attend a case management conference on Nov. 17. Richardson himself entered a petition for Baccari to withdraw as counsel at that time, but the Court rejected it. Since that time, irreconcilable differences and a breakdown of communication between Richardson and Baccari have taken place. Baccari stated Richardson continued to refuse to pay legal prior to his discharge as counsel.
A hearing in this matter was set for Wednesday in Court chambers, at Philadelphia City Hall.
On July 23, 2013, Wallace was a passenger in a vehicle he owned which was being driven near the "F" gantry on the Benjamin Franklin Bridge in Camden, N.J., when defendant Altoviste Santos (operating a vehicle on behalf of fellow defendants Regina Grazel, Coleman's Wholesalers, Cargroup Holdings, LLC and Galaxy Auto Sales and Tags) struck the vehicle Wallace was riding in. Wallace alleged Santos failed to drive with care or under control and in a negligent fashion.
Wallace allegedly suffered injuries about his head, body, limbs and severe orthopedic and neurological injuries, and sought recovery for medical costs associated therein, per the Pennsylvania Motor Vehicle Financial Responsibility Law (PMVFRL) and its Section 1705, and surpasses its tort limit threshold. Wallace's vehicle also sustained significant damage in the crash.
Apart from Santos, Wallace sued the remaining corporate defendants, jointly and severally, for negligent entrustment and punitive damages in excess of $50,000.
Further, Wallace sued the remaining defendant, Progressive Specialty Insurance Company, for breach of contract, bad faith and violation of the Unfair Trade Practices and Consumer Protection Law (UTPCPL), for their failure to pay out uninsured motorist benefits.
From Progressive, Wallace is seeking damages in excess of $50,000, plus interest, costs, attorney's fees and compensatory damages in this case.
The plaintiff is represented by Warren I. Siegel of Bernhardt Rothermel & Siegel, in Philadelphia.
The defendants are represented by John M. Pecci II and Mark Giannotti of Marks O'Neill O'Brien Courtney, Jonathan M. Romvary and Meaghan P. Londergan of Freeman Mathis & Gary and Daniel J. Maher Jr. of Styliades Mezzanotte & Hasson, all in Philadelphia, James Willing Watson of Forry Ullman in King of Prussia and Daniel J. Twilla in Pittsburgh.
Philadelphia County Court of Common Pleas case 150700801
From the Pennsylvania Record: Reach Courts Reporter Nicholas Malfitano at nickpennrecord@gmail.com