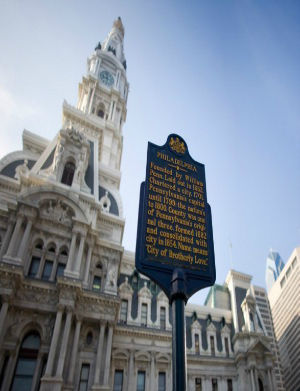 Philadelphia City Hall
PHILADELPHIA – A negligence complaint against a Florida-based café has been dismissed by a Philadelphia County Court of Common Pleas judge, due to lack of jurisdiction.
On Thursday, Judge Arnold L. New dismissed a lawsuit initiated by Jason and Summer Wilgus of Pen Argyl against Rainforest Café, Inc. of Harrisburg and Landry's Inc. of Houston.
Previously, on Nov. 12, Russell M. Yankwitt filed a motion for preliminary objections relating to lack of jurisdiction against the defendants, successfully arguing defendant Landry's is based in Houston and there are no locations of the Rainforest Café in Pennsylvania, therefore neither defendant could be served in this state, nor had any business connection to it.
Yankwitt sought dismissal of the complaint, in favor of litigating in Florida instead, due to the aforementioned lack of connection to Pennsylvania and the logistic challenges involved with trying this case in Pennsylvania.
On Oct. 28, 2013, the plaintiffs were on the premises of a café owned by the defendants in Buena Vista, Fla. when an artificial tree branch allegedly fell and struck them. The plaintiffs believe the defendants' negligence and failure to warn of or repair this dangerous condition resulted in their injuries.
Jason allegedly suffered head and right arm injuries, bumps, bruises and lacerations, while Summer suffered right hand and right arm injuries, bumps bruises and lacerations, as well.
Both plaintiffs are each seeking, jointly and severally, damages in excess of $50,000 and in excess of compulsory arbitration amounts in this case.
The plaintiffs are represented by Craig A. Falcone of Sacchetta & Falcone, in Media.
The defendants are represented by Yankwitt, in White Plains, N.Y.
Philadelphia County Court of Common Pleas case 150901128
From the Pennsylvania Record: Reach Courts Reporter Nicholas Malfitano at nickpennrecord@gmail.com