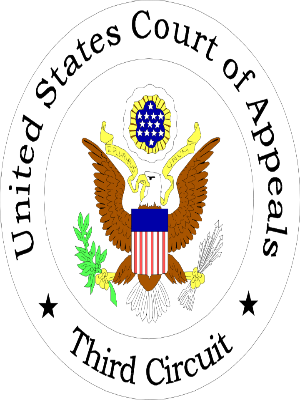 U.S. Court of Appeals for the Third Circuit
PHILADELPHIA – An insurance company is still liable for a payout of up to $1 million in uninsured motorist coverage to a man who suffered injuries in a vehicle accident two-and-a-half years ago.
Stefan Freeth was seriously injured in September 2012, while working on the back of a truck owned by his employer Road-Con, Inc. When a passing tractor-trailer struck a traffic sign, the sign was driven into Freeth's leg. Since the tractor-trailer was never identified, Road-Con's business insurance provided uninsured motorist coverage for Freeth's injuries, and a policy was issued by appellant Zurich American Insurance Company.
Freeth filed the original lawsuit seeking a declaration the policy provides $1 million in UM coverage, while Zurich argued the policy's limit was only $35,000. Zurich predicated their argument on Road-Con, prior to Freeth's injury, signing an uninsured/underinsured motorist coverage limit summary form which reduced the limit to $35,000.
Freeth argued the signature on the summary form wasn't enough and that Road-Con was instructed to review and sign state-specific forms enclosed with the form. Based on this point, Freeth asserted the uninsured motorist coverage was set at the same amount as bodily injury liability coverage – which, under Pennsylvania law, is $1 million.
Each side filed motions for summary judgment, and the District Court ruled in favor of Freeth on July 16, deciding Zurich must provide $1 million in UM coverage, and denying their motion.
The Court's opinion was Zurich did not enclose, and Road-Con did not sign, any Pennsylvania-specific form designating $35,000 as the amount of UM coverage. Due to that, the Court felt the requirements stated in the summary form and cover letter for reducing coverage were not met, and coverage defaulted to the seven-figure limit imposed by state law. Zurich appealed this ruling to the Third Circuit.
"Under 75 Pa. Cons. Stat. Section 1731, 'an insurance company issuing a policy in the Commonwealth of Pennsylvania must provide [uninsured/underinsured motorist] coverage equal to the bodily injury liability coverage, unless the insured validly rejects UM/UIM coverage or validly requests lower limits of coverage pursuant to section 1734," Judge Michael A. Chagares of the Third Circuit Court, said. "Section 1734, in turn, provides that "a named insured may request in writing the issuance of coverages…in amounts equal to or less than the limits of liability for bodily injury."
Chagares stated the Third Circuit agreed with Freeth's view that the summary form "did not constitute a request under Section 1734 manifesting Road-Con's desire to purchase that amount of insurance coverage.
Like the District Court, the Third Circuit found "significant" language contained in the summary form, which stated the first-named insured party "must sign that state's selection-rejection form" and "failure to return the signed uninsured-underinsured motorist selection-rejection summary form and required state-specific forms prior to the policy inception date(s) will result in the policy being issued with coverage limits imposed by operation of state law."
"Road-Con never signed a state-specific Pennsylvania form requesting reduced UM coverage, even though it did so for other states. Thus, to prevail, Zurich must show that the summary form by itself constituted a 'request,' notwithstanding the language in the summary form warning insureds that signing the Summary Form was insufficient to effect a reduction in coverage. Zurich fails to do so," Chagares said.
"Even if the mere act of signing a document like the summary form would ordinarily suffice to reduce coverage, it did not suffice here for the reason already given – namely, that language on the summary form itself clearly and repeatedly stated that signing the summary form was insufficient to effect a reduction in coverage," Chagares concluded.
The appellant is represented by Marc J. Syken of Bodell Bove, in Philadelphia.
The appellee is represented by Thomas Moribondo in West Chester.
U.S. Court of Appeals for the Third Circuit case 15-2924
U.S. District Court for the Eastern District of Pennsylvania case 2:14-cv-02274
From the Pennsylvania Record: Reach Courts Reporter Nicholas Malfitano at nickpennrecord@gmail.com