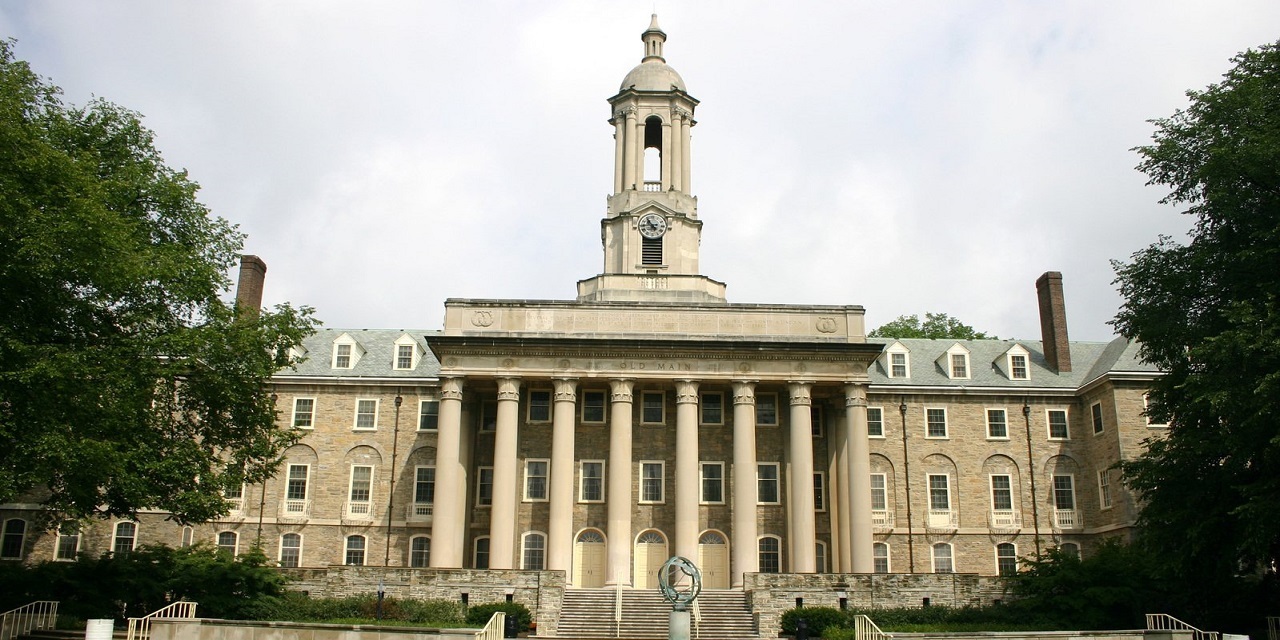 Old Main at Penn State
HARRISBURG — A Pennsylvania State University sophomore is seeking protection in federal court from a suspension handed down after his alleged "pressuring" and "cajoling" of a fellow student into having sex with him was found to amount to sexual assault.
The plaintiff in the lawsuit filed July 18 against Penn State in U.S. District Court for Pennsylvania's Middle District, identified as "John Doe," alleges the university changed its definition of "consent" to take a second crack at suspending him for alleged sexual misconduct. Doe alleges that the university's "ad hoc creation of a retrofitted 'consent' definition" denied him his right to advance notice of the university's sexual misconduct policy.
"John Doe filed this lawsuit because PSU's due process and Title IX violations deprives him of his right to an education, his Penn State degree, sullies his reputation, jeopardizes his future livelihood and has caused him significant emotional distress," the 41-page lawsuit said.
"Doe is requesting an injunction so that the court can provide relief to the irreparable harm the university has and is causing him as a result of an unfair process and delay."
Doe, described as a second-year Penn Schreyer Honor College student, argues the university violated his constitutionally protected right to due process and his Title IX statutory right to equal treatment in an ongoing sexual assault disciplinary prosecution.
"Mr. Doe's lawsuit seeks an immediate court order enjoining PSU from reinstituting a university disciplinary prosecution against him following a prior university Title IX hearing panel's determination that his conduct, which largely consisted of 'flattering' his accuser, for example, by texting her that he thought she was 'beautiful,' amounted to 'pressuring' and 'cajoling' which 'coerced' her into agreeing to have sex," the lawsuit said.
"The prior panel found Mr. Doe liable for sexually assaulting his accuser and imposed a one-year suspension and other requirements."
Weeks after the suspension order, a Penn State appeals officer set the panel's determination aside after finding the panel had misinterpreted the university's definition of "consent," according to the lawsuit. The appeals officers ordered the university's Office of Student Conduct to convene another panel "to preside over a second attempt to discipline him," the lawsuit said.
"On July 16, 2019, just six days before the July 23, 2019, hearing is set to occur, PSU's Title IX coordinator provided Mr. Doe a copy of a new 'coercion' definition that explicitly includes 'cajoling' as conduct that negates consent," the lawsuit continued. "Moreover, the university retrofitted its existing definition, still in place for other students, in an attempt to capture the conduct alleged in Mr. Doe's case."
In his lawsuit, Doe alleges Penn State violated his constitutional and statutory rights to a fair, reliable and non-discriminatory disciplinary process.
"Specifically, the university's policies and practices, generally, and as applied to him specifically, violate his right to due process of law by prohibiting him from calling witnesses on his own behalf and confronting and cross examining his accuser and adverse witnesses," the lawsuit said.
The case is assigned to U.S. District Court Judge Matthew W. Brann
The case was filed on behalf of Doe by State College attorney Andrew J. Shubin under case no. 4:19-cv-01234-MWB