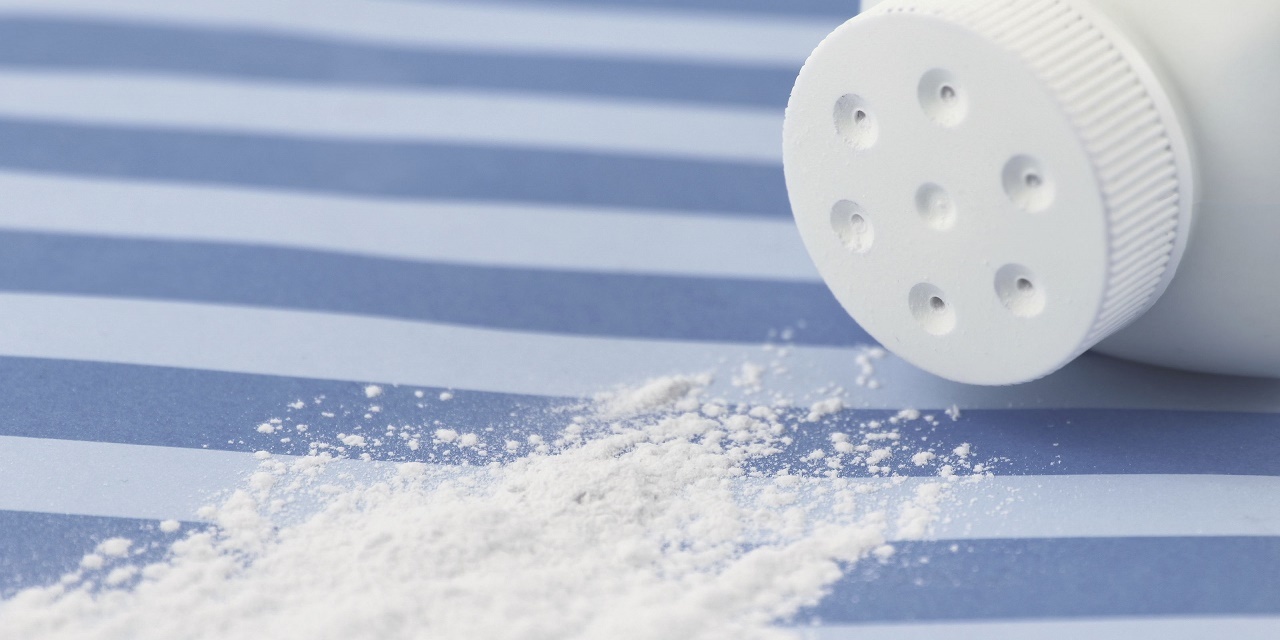 Talc Powder
TRENTON, N.J. – Eight days of scientific expert witness testimony in a New Jersey federal court, centered on whether Johnson & Johnson's talc-containing baby powder causes women to develop both ovarian cancer and mesothelioma, will conclude Wednesday and ultimately determine if 12,000 lawsuits on the subject move forward.
On July 22, pre-trial Daubert hearings commenced in U.S. District Court Judge Freda Wolfson's courtroom to evaluate the reliability of scientific evidence cited by plaintiffs, who believe the powder contains carcinogenic asbestos and/or asbestiform fibers, and led them to develop cancer.
Johnson & Johnson opposes the plaintiffs' claims on all counts and argues their evidence cannot show its baby powder product causes cancer. The company seeks dismissal of all expert witnesses from the plaintiffs' side and their cases in their entirety.
Currently, the carcinogenic talc lawsuits are contained in a multi-district litigation, but none have yet been scheduled for trial. Wolfson said she won't issue her decisions at the immediate conclusion of the hearing.
Plaintiff Witness Dr. Daniel Clarke-Pearson Testifies
During a Daubert hearing, one witness testifies per day through both direct and cross-examination. In this case, plaintiff counsel called five expert witnesses, while Johnson & Johnson summoned three.
On Tuesday, the Court received testimony from an expert witness called by the plaintiffs, Dr. Daniel Clarke-Pearson, a Gynecologic Oncologist and Professor of Obstetrics and Gynecology at the University of North Carolina-Chapel Hill.
Clarke-Pearson has published more than 200 peer-reviewed manuscripts, written more than 50 medical textbook chapters and edited three medical textbooks.
Additionally, Clarke-Pearson explained in direct testimony conducted by Patricia O'Dell of Beasley Allen in Birmingham, Ala., that he brought more than 40 years of academic experience in gynecologic oncology to this case, and performed both a Bradford Hill analysis and a "systemic review of the relevant literature, including peer-reviewed papers, original research, case-controlled studies, meta-analysis studies and systemic analyses."
Clarke-Pearson's conclusion was that "the use of talcum powder products, including those manufactured by Johnson & Johnson, when applied to the female perineum, is a causative factor in the development of epithelial ovarian cancer."
"The responsible biological mechanism is migration of talc particles to the fallopian tubes and ovaries, inciting an inflammatory process that includes oxidative stress and specific genetic mutations," according to Clarke-Pearson.
The doctor explained that though ovarian cancer is a "relatively rare" form of the disease, contracted by approximately 22,000 women annually, it is often lethal and there is no way to screen for it.
Clarke-Pearson said the symptoms are vague until the cancer develops beyond the ovaries, equating its movement through the abdominal cavity and attachment onto vital organs to dandelion seeds in the wind.
Talc application was one cause, the doctor claimed, putting women at an overall increased risk of developing cancer ranging from 20 to 60 percent.
"Genital application of powder increases risk of epithelial ovarian cancer in all women and can cause epithelial ovarian cancer in some women," Clarke-Pearson stated.
A member of defense counsel for Johnson & Johnson, Allison Brown of Weil Gotshal & Manges in Princeton, N.J., sought to discredit Clarke-Pearson by alleging he only formed an on-the-record opinion on the subject after being retained by the plaintiffs.
"Were you compensated by the plaintiffs' lawyers?" Brown asked, to which Clarke-Pearson replied, "Yes, as is every expert witness."
Brown presented documents from the Society of Gynecologic Oncologists and American College of Obstetricians & Gynecologists, which referred to age, hereditary disposition, family history and null parity as risk factors for ovarian cancer, yet did not appear to list talcum powder as a risk factor for the disease.
Brown also entered into evidence a 2014 Food and Drug Administration letter, written after the agency reviewed related epidemiology, which stated the following: "A cogent biological mechanism by which talc might lead to ovarian cancer is lacking."
But, the witness stood firm by his assertions.
"I believe that talc causes an inflammatory response in some patients," Clarke-Pearson said.
Results of Other Johnson & Johnson Talc Lawsuits
Imerys Talc America, a chief talc supplier for Johnson & Johnson and two of its subsidiaries filed for Chapter 11 bankruptcy protection in February, while conceding they did not have the finances to continue litigating the numerous asbestos-related cases that have been filed against it in recent years.
Imerys made an appeal for leniency before a Delaware court on Feb. 13. In a press release outlining the bankruptcy filing, it noted all outstanding talc-related litigation involving the filing companies was suspended.
Johnson & Johnson lost a recent bid to have cases filed against it transferred there, with a Delaware federal judge indicating the move would be irrelevant to Imerys bankruptcy proceedings and burdensome to the litigation.
In recent months and years, carcinogenic talc lawsuits in other jurisdictions have yielded gigantic jury verdicts numbering in the tens and hundreds of millions of dollars – and in one lawsuit, the billions.
In July 2018, St. Louis Circuit Court jurors hit Johnson & Johnson with a staggering $4.69 billion verdict, comprised of $4.14 billion in punitive damages and $550 million in compensatory damages, to be paid to 22 women who claimed the defendants' talc caused their ovarian cancer.
That trial and judgment were the first time a court awarded damages for alleged asbestos in talc. Numerous other trials focused on allegations that talc alone caused ovarian cancer. Johnson & Johnson is challenging the verdict on appeal.
California plaintiff Eva Echeverria, who also claimed longtime use of the defendants' talc caused her ovarian cancer, was awarded $417 million by a jury verdict in August 2017.
That award consisted of $70 million in compensatory damages and $347 million in punitive damages, but it was later overturned on appeal that October by a Los Angeles County Superior Court judge.
In 2016, a Missouri jury found Johnson & Johnson liable for injuries resulting from the use of its talc powder, awarding the family of Alabama woman Jacqueline Fox $72 million. But similarly, an appellate court in Missouri threw out the verdict, deciding the case should not have been tried in St. Louis to begin with.
It found that in light of the landmark Bristol-Myers Squibb v. Superior Court of California decision from the U.S. Supreme Court, the St. Louis City Circuit Court had erred when it exercised personal jurisdiction over Johnson & Johnson, because Fox's claims did not arise out of the company's activities in Missouri.
In May, a New York state jury hit Johnson & Johnson with a total $325 million jury verdict over claims made by plaintiff Donna Olson, who claimed exposure to asbestos in its baby powder products led her to develop a rare form of cancer. The company is also appealing that decision.
Also in May, a South Carolina jury cleared Johnson & Johnson of liability in a similar action.
Johnson & Johnson fully supports the safety of its products, referring to the National Cancer Institute's Physician Data Query Editorial Board, which wrote in April 2017: "The weight of evidence does not support an association between perineal talc exposure and an increased risk of ovarian cancer."
The outcome of the hearings will determine whether or not the 12,000 federal lawsuits filed against the corporation are found credible enough to go to trial. Wolfson is expected to issue an opinion after an evaluation of all the evidence and testimony submitted.
U.S. District Court for the District of New Jersey case 3:16-md-02738
From the Pennsylvania Record: Reach Courts Reporter Nicholas Malfitano at nick.malfitano@therecordinc.com