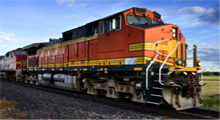 PHILADELPHIA – A former chemist for Conrail and CSX Transportation who believed his development of kidney disease, multiple myeloma and pulmonary emboli was the result of his being exposed to harmful substances in the course of his work, has settled with both rail companies.
On July 2, Philadelphia County Court of Common Pleas Judge Shelley Robins-New announced the action filed by plaintiff Ronald J. Milkas had been settled prior to assignment for trial. Terms of the settlement were not disclosed.
Milkas, of Adel, Ga., initially filed suit in the Philadelphia County Court of Common Pleas on Sept. 28, 2017 versus Consolidated Rail Corporation of Philadelphia and CSX Transportation, Inc. of Jacksonville, Fla.
Milkas stated he worked as a chemist for the defendants from 1988-1999 in Selkirk, N.Y. and from 1999-2004 in Waycross, Ga. During that time, he claims he was "exposed to excessive and harmful amounts of chemical waste, diesel fuel/fumes, solvents such as xylene/toluene/hexane, petroleum products/lubricants, toxins, locomotive engine coolant and various chemical cleaners and reactants."
More specifically, Milkas was tasked with testing the properties of locomotive lubricating oil, locomotive engine coolants and diesel fuel. In order to perform and complete the testing process, he claimed he "was required to use a variety of solvents including xylene/toluene/hexane which were also used to clean and flush the testing equipment" and "was required to clean electrical parts with spray solvents that were known carcinogens."
Milkas argued that being exposed to those same carcinogenic substances led him to contract kidney disease, multiple myeloma and pulmonary emboli, and that these illnesses were the result of the defendants' negligence in exposing him to the substances while knowing of their ability to have harmful effects towards him, and violating the Federal Employers Liability Act in the process.
Before settlement and for one count of FELA violation, the plaintiff is seeking all recoverable damages in excess of $50,000 and the costs of this action.
The plaintiff was represented by Thomas J. Joyce III, Tobi A. Russeck, Luke T. Pepper, Joseph J. Cappelli and Matthews Richards of Bern Cappelli, in Conshohocken.
The defendants were represented by Daniel Selznick, Jeffrey S. Pollack, Sharon L. Caffrey and John P. Kahn of Duane Morris, in Philadelphia and Cherry Hill, N.J.
Philadelphia County Court of Common Pleas case 170903422
From the Pennsylvania Record: Reach Courts Reporter Nicholas Malfitano at nick.malfitano@therecordinc.com