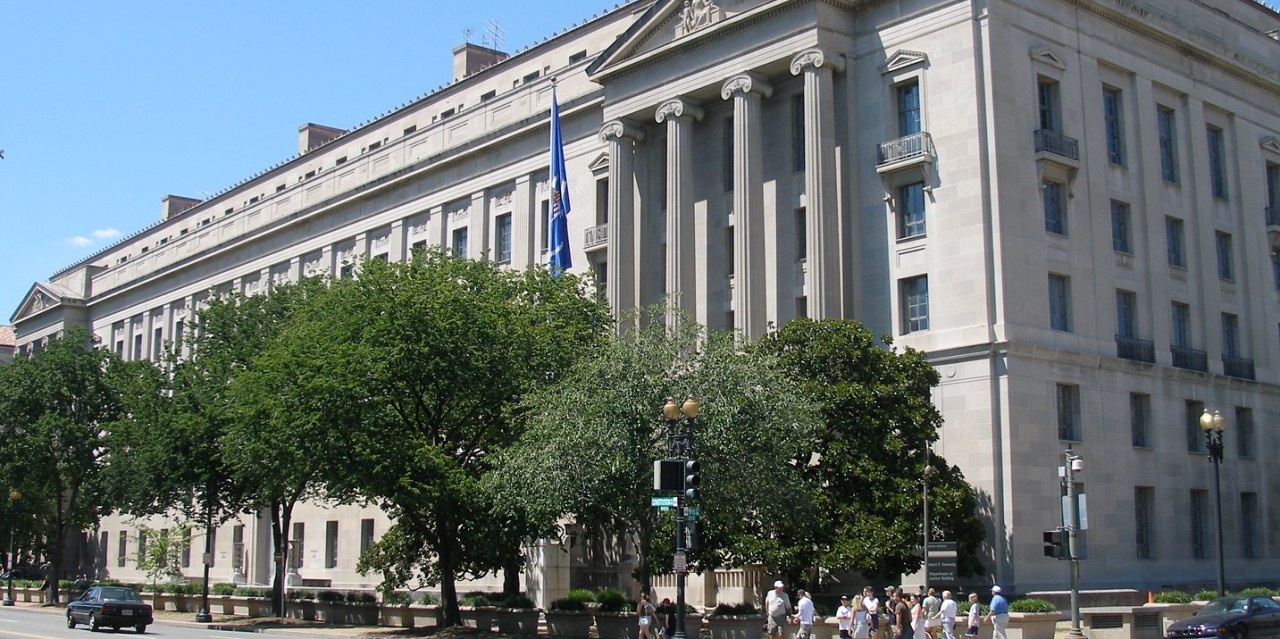 U.S. Department of Justice
PHILADELPHIA – Through a pair of case dismissals, it seems two federal judges in Philadelphia have sided with the view of the Trump Administration, which said private attorneys wasted more than 1,500 hours of its time with frivolous whistleblower lawsuits filed against major players in the American health care industry.
In United States of America v. Teva Pharmaceutical Products, Ltd. Et.Al, U.S. District Court Judge Jan E. DuBois ruled on Nov. 25 that all claims made on behalf of the False Claims Act through National Health Care Analysis Group were dismissed with prejudice, and those brought through the federal government were dismissed without prejudice.
Furthermore, the remaining state and local claims were likewise also dismissed without prejudice.
"The FCA claims are dismissed without prejudice as to the government because the government has not asserted any claims, 'or even acquiesced to [relator] pursuing the FCA claims on [its] own.' For this reason, the government may bring these or similar claims against Teva in the future if it decides to do so," DuBois said.
Cases like the instant matter had alleged a kickback scheme. For example, the instant lawsuit against Teva Pharmaceutical said the company paid tens of millions of dollars to employ specialists and nurses who unlawfully provided services to prescribers, in exchange for recommendations of its multiple sclerosis drug Copaxone.
Thus, Medicare and Medicaid have paid for Copaxone prescriptions that were tainted by kickbacks, it was alleged.
Similarly, in United States of America v. EMD Serono, Inc. Et.Al, U.S. District Court Judge Timothy J. Savage ruled on April 3 to dismiss the action with prejudice as to the U.S. and the plaintiff states, but without prejudice as to the federal government.
"The decision to dismiss this case is rationally related to the valid governmental purpose of preserving resources for other litigation and protecting the government's healthcare programs. The reasons given by the government are not a cover for an illegitimate reason and do not mask an animus toward the corporate relator. They are concerns that any party to litigation may have when deciding whether to continue pursuing a case. The government is entitled to do a cost-benefit analysis to decide whether to pursue a case, even a meritorious one," Savage stated.
"The government has the authority to dismiss this action brought on its behalf...it has provided valid reasons for dismissal and has adequately demonstrated that dismissal is rationally related to accomplishing its interests. Relators have not presented a colorable claim that dismissal would be unreasonable, arbitrary, or an abuse of discretion. Therefore, we shall grant the government's motion and dismiss this action."
Savage added the government's investigation into the case lasted 18 months, but ultimately concluded there was "insufficient legal and factual support to pursue this action", further expressing the Court was "satisfied that the government has fully investigated the claim."
History With Other Associated NHCA Cases
Last year, the U.S. Department of Justice asked judges hearing 11 False Claims Act lawsuits around the country to throw them out of court, claiming the lawyers involved had concocted a scheme to sue the health care industry by creating shell companies to act as whistleblower-plaintiffs.
Three of those cases were filed in the U.S. District Court for the Eastern District of Pennsylvania, located in Philadelphia. The plaintiff in one of those actions, Brian Brousseau, voluntarily dismissed the case after the DOJ's December motion.
Lawyers responded to the DOJ, and the DOJ filed replies, leaving the next events in the hands of the judges.
The DOJ wrote earlier this year that the plaintiffs' cases lack common sense.
"Because Relator, a made-for-litigation entity, has no other knowledge other than the information it 'learned' through a series of paid interviews with several former Teva employees conducted under the misleading pretense of market research, this Court should dismiss the complaint," a Feb. 11 DOJ reply said.
The FCA is a law that allows whistleblowers to sue companies that allegedly overcharge the federal government for certain services and products, most commonly involving Medicaid and Medicare. Once a whistleblower files its suit, the federal government and eligible states have the option to join the plaintiff in prosecuting the action.
The whistleblower, for its efforts, is entitled to a substantial percentage of any recovery.
The DOJ said because of the possible impact of the claims made in these cases, it spent 1,500 hours investigating them – only to find they lacked merit.
The plaintiff companies are formed by NHCA Group, which is itself a pseudonym for a partnership comprised of limited liability companies set up by investors and former Wall Street investment bankers, the DOJ said in its motions.
The other qui tam lawsuits were:
• U.S. ex rel. SAPF, LLC, v. Amgen, Inc., No. 2:16-cv-05203 (E.D. Pa.);
• U.S. ex rel. SMSF, LLC v. Biogen, Inc., No 1:16-cv-11379-IT (D. Mass.);
• U.S. ex rel. SCEF, LLC v. Astra Zeneca PLC, No. 2:17-cv-01328 (W.D. Wash.);
• U.S. ex rel. Miller, v. AbbVie, Inc., No. 3:16-cv-02111 (N.D. Tex.);
• U.S. ex rel. Carle, v. Otsuka Holdings Co., No. 1:17-cv-00966 (N.D. Ill.);
• U.S. ex rel. CIMZNHCA v. UCB, Inc., No. 3:17-cv-00765 (S.D. Ill.);
• U.S. ex rel. Health Choice Alliance, LLC v. Eli Lilly & Co., No. 5:17-cv-00123 (E.D. Tex.); and
• U.S. ex rel. Health Choice Advocates, LLC v. Gilead, et al., No. 5:17-cv-00121 (E.D. Tex.).
All have been dismissed except for CIMZNHCA v. UCB, Inc., which is still pending in the U.S. District Court for the Southern District of Illinois.
U.S. District Court for the Eastern District of Pennsylvania cases 2:16-cv-05594 & 2:17-cv-02040
From the Pennsylvania Record: Reach Courts Reporter Nicholas Malfitano at nick.malfitano@therecordinc.com