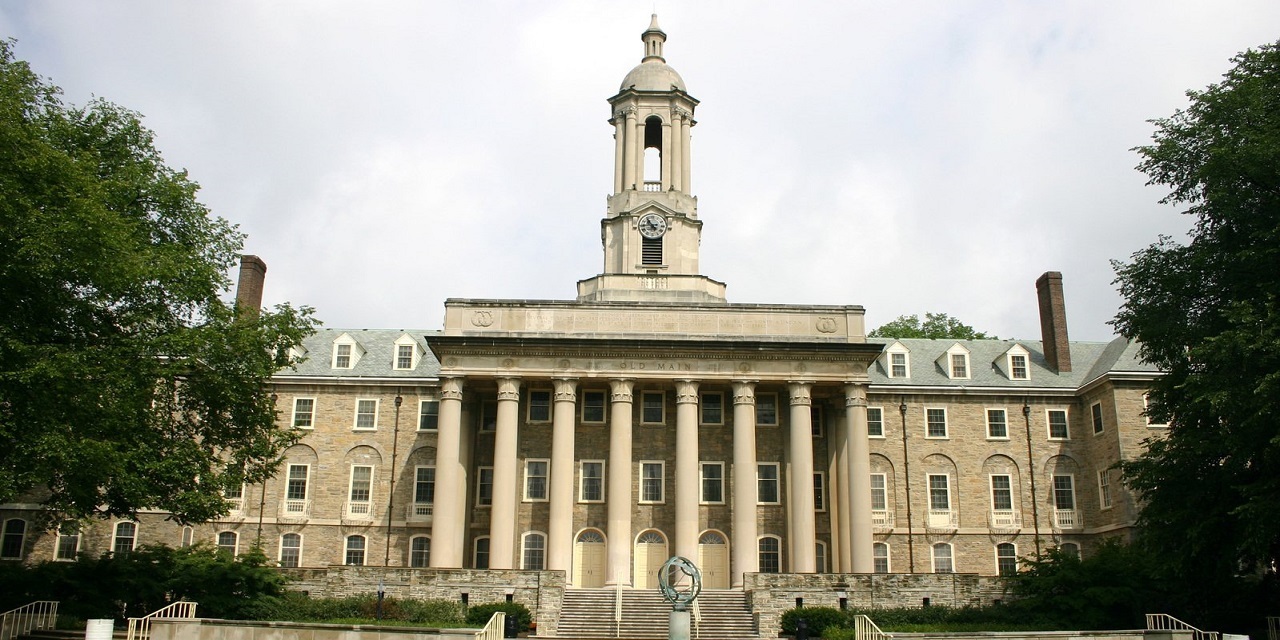 Old Main at Penn State
PHILADELPHIA – A lawsuit brought in a Philadelphia court says negligence on the part of Penn State University and Bright Horizons, the nation's largest child care provider, led to alleged repeat incidents of molestation against a five year-old child by a daycare center's former Assistant Director.
John and Jill Doe (on behalf of their minor son, Jack Doe) filed suit in the Philadelphia County Court of Common Pleas on Thursday, versus Penn State University of University Park, Bright Horizons, Inc. of Watertown, Mass., Creative Beginnings Child Care, LLC of Reading, Hildebrandt Learning Centers of Dallas, Pa.
The lawsuit details that the alleged sexual abuser is ex-Assistant Director of the center, 33 year-old Berwick resident Andrew J. McCollin, who is facing criminal charges.
Prior to working at Creative Beginnings, McCollin was hired in 2007 at a daycare center in Bloomsburg and the suit alleges he committed sexual abuse against a four year-old girl there in 2011.
Despite the incident being reported by the victim to her parents, and then by her parents to the daycare center, the suit states the center conducted no investigation into the charges or reported the incident to appropriate authorities like ChildLine, the Pennsylvania Department of Human Services, the state or law enforcement, nor did it fire or even discipline McCollin.
Despite the incident, McCollin was transferred to the Penn State Behrend daycare center in Erie, in 2013.
In response to the conviction of former Penn State University football team assistant coach Jerry Sandusky, the now-former president of the school, Rodney Erickson, created a task force to examine the operations of all Penn State University-affiliated child care centers that same year.
In 2014, Erickson stated, "It is critically important that any child care facilities operated by or on behalf of the university conform to established standards of care and do not expose the university to liability beyond reasonable levels associated with this type of activity."
Young Jack Doe was then enrolled into the Creative Beginnings daycare center in October 2014, when he was just three months old.
Subsequent inspections in the ensuing years from the Pennsylvania Department of Human Services allegedly revealed the Penn State Behrend and Creative Beginnings daycare centers to be in violation of numerous state child care regulations – findings the centers allegedly did not mention to the plaintiffs.
In June 2017, the-then 31 year-old McCollin was transferred to Creative Beginnings to serve as its Assistant Director – where he came into contact with Jack, then two years old.
Despite multiple reports of McCollin having committed sexual abuse against children, the suit says he was in charge of 40 preschool-aged children and was permitted to oversee them unsupervised.
"After he began working at the Creative Beginnings daycare center, McCollin began to anally penetrate digitally, sexually assault, sexually abuse and molest Jack Doe on a serial and repeated basis," the suit states.
The abuse occurred over a two year-plus period, from June 2017 to August 2019.
McCollin's abuse was finally addressed last August, when he was suspended from his child care duties, arrested and charged with aggravated indecent assault, corrupting minors and endangering the welfare of a child.
According to the lawsuit, the abuse has left Jack physically and emotionally scarred.
An inquiry from the Pennsylvania Record made to Penn State University was not returned.
A similar request for comment to Creative Beginnings met with a reply from the daycare center.
"We were shocked and distressed when we received a concern from a parent last August. We immediately reported the concern to the appropriate agencies, and the Berks County Police Department began an investigation," Creative Beginnings said.
"The families have our full support. We are grateful to the district attorney's office for their diligent efforts in the investigation, and we will continue to work with them to ensure a just outcome."
On behalf of the plaintiffs, Thomas R. Kline of Kline & Specter, also issued a statement on the filing of the lawsuit.
"This lawsuit seeks to hold Bright Horizons and Penn State accountable for their enabling of a pedophile who repeatedly sexually abused and assaulted a five year-old boy who is now forever scarred," Kline said.
"The complaint catalogues many failures by Bright Horizons and Penn State over a span of years that allowed a pedophile to remain in the high ranks of their daycare center resulting in repeated assaults against a helpless child."
For counts of negligence, negligent supervision, negligent hiring and retention, premises liability and vicarious liability, the plaintiffs are seeking damages, individually, jointly and severally, in excess of arbitration limits, exclusive of pre-judgment interest, delay damages and costs.
The plaintiffs are represented by Thomas R. Kline and Thomas E. Bosworth of Kline & Specter, in Philadelphia.
The defendants have not yet retained legal counsel.
Philadelphia County Court of Common Pleas case 200101781
From the Pennsylvania Record: Reach Courts Reporter Nicholas Malfitano at nick.malfitano@therecordinc.com