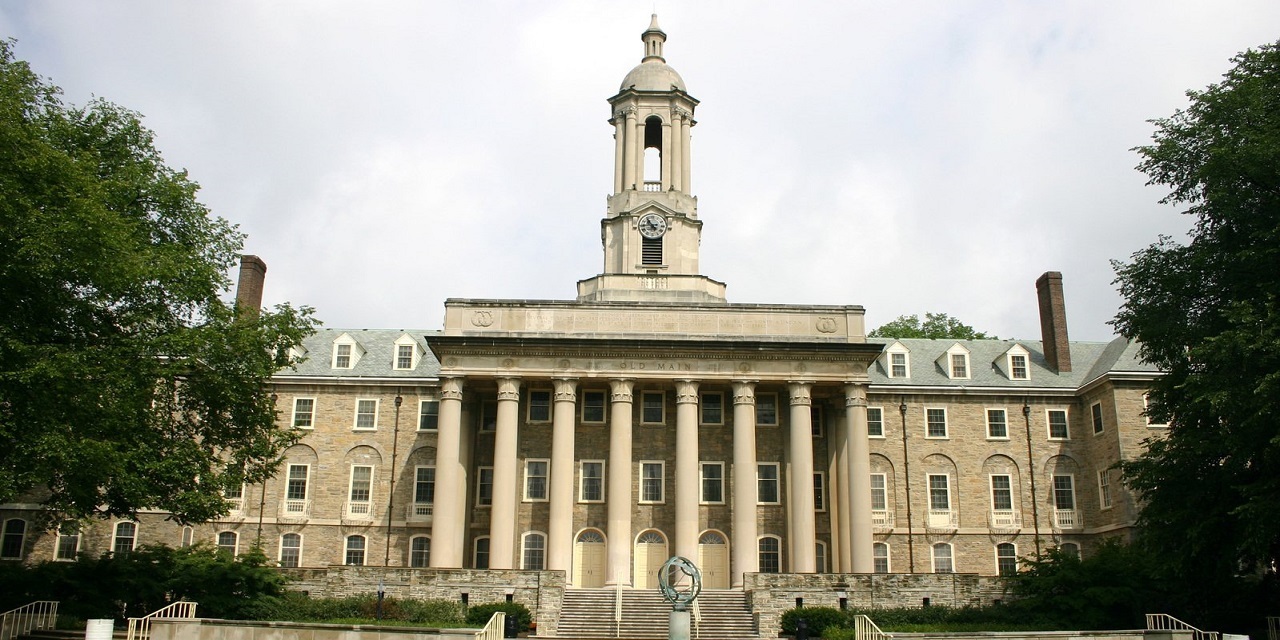 Old Main at Penn State
WILLIAMSPORT – Penn State University has formally denied any claim of negligence in response to allegations from a former cornerback that the school, the head coach of its football team and a former defensive tackle collectively ignored incidents of hazing and sexual harassment against him.
On Jan. 13, Isaiah Humphries of Sachese, Texas, filed suit in the U.S. District Court for the Middle District of Pennsylvania against Penn State University, head coach James Franklin of University Park and former teammate Damion Barber, of Harrisburg.
In the lawsuit, Humphries, who played one season with Penn State University's Nittany Lions in 2018, alleges a campaign of hazing and harassment was directed towards underclassmen.
Humphries further claims that Barber conspired with fellow teammates, such as linebacker Micah Parsons, defensive end Yetur Gross-Matos and linebacker Jesse Luketa, who "collectively orchestrated, participated in, directed and/or facilitated a campaign to harass and haze" both him and other underclassmen members of the team.
One moment recalled in the suit had Barber, Parsons, Gross-Matos and Luketa telling the underclassmen that they intended to make them "their bitch, because this is a prison" and having used the phrase, "I am going to Sandusky you."
The reference being to that of Jerry Sandusky, the former Assistant Coach of the Penn State University football team who is now serving state prison time after being convicted in 2012 on multiple charges of child sexual abuse.
Other incidents alleged in the lawsuit describe the foursome of Barber, Parsons, Gross-Matos and Luketa taking the clothes of underclassmen players and not returning them, wrestling underclassmen players to the ground and humping them or simulating sexual acts with them, and making sexual contact with underclassmen players while in the team showers.
The incidents in question took place in the Lasch Football Building, a campus dormitory, or "other places" in Centre County, some of which were allegedly observed by team coaching staff, according to the litigation.
In addition to reporting the hazing and harassment to the team staff himself, Humphries' father Leonard Humphries - a Penn State University alumnus, former member of the school's football team and former NFL player - also reported the behavior to Franklin.
However, the suit said nothing substantive was done.
In the suit, Humphries said due to his speaking out, he was "overly and unfairly scrutinized," denied playing time in football games, faced pressure from team coaches to leave the football program and then bore the brunt of "negative reviews" given to other schools that were interested in signing him.
As a result, Humphries said he suffered physical pain, trauma, emotional distress, sleeplessness, anxiety and depression, plus humiliation and embarrassment.
The sum total of all the alleged events caused him to resign from the Penn State University football program in December 2018 and transfer to the University of California.
Mentioned in the lawsuit is Barber being found to have violated Penn State University's anti-hazing policy and then sanctioned, subsequent to an investigation by the school's Office of Sexual Misconduct Prevention and Response last year
As to whether Barber did not play in the 2019 season opener due to a violation of team rules, the school replied that in accordance with federal law, such disciplinary actions taken against students are confidential.
Shortly after the filing of the suit, Penn State University released a statement in response to Humphries' allegations, stating no claims of hazing against anyone were substantiated.
On March 16, counsel for Penn State University responded with a motion to dismiss three claims from Humphries' lawsuit, for negligence per se and negligent infliction of emotional distress.
"With respect to the negligence per se counts, Humphries cannot demonstrate that he was subjected to hazing as defined and prohibited by Pennsylvania law. While he contends generally that upperclassmen initiated lower classmen to the football team, the conduct of which he specifically complains occurred exclusively among lower classmen, including two players in his own recruiting class," the defense's motion read, in part.
The university said that the players Humphries accused of hazing him were, like himself, the least-senior members of the team – in contrast to the plaintiff's argument that upper-classmen were responsible for the alleged hazing incidents.
"Humphries and the four teammates he accuses of misconduct were the least-senior members of the football team in January 2018. Whatever, if anything, happened between Humphries and these teammates happened among 'lower classmen,' not part of some initiation ritual orchestrated by 'upper classmen' potentially in violation of the Antihazing Law," according to the school.
"It is not possible that Humphries's four teammates – none of whom were upper-classmen – engaged in any conduct toward Humphries 'for the purpose of initiation or admission' onto the football team. Whatever happened was not hazing, and Humphries's negligence per se theory is."
Further, the university argued that even if Humphries could allege that he was hazed by upper-classmen as part of a purported initiation rite, he failed to allege any fact to support that the University or Franklin were responsible for such conduct.
"The Antihazing Law prohibited and criminalized acts by individuals who engaged in hazing activities, providing that 'any person who causes or participates in hazing commits a misdemeanor of the third degree.' It did not apply to either institutions like the University or individuals like Franklin, whom Humphries alleges, at most, failed to prevent hazing or to intervene after hazing allegedly was reported. At most, Humphries contends that the University and Franklin failed to intervene on his behalf, but that purported failure does not and cannot establish negligence per se arising under the Antihazing Law," the school's motion stated.
"Since Humphries proceeds on a theory of negligence per se, he must establish that the 'duty' he contends to have been breached was created by the Antihazing Law itself. But the Antihazing Law does not articulate or impose a duty to intervene or assist another person being hazed by a third person. To the extent Humphries asserts a failure to act as a basis for his negligence per se claims, Humphries fails to assert a violation of the Law altogether."
Penn State University added that Humphries' negligence claims are partially predicated upon the Piazza Law – which went into effect on Nov. 19, 2018 and repealed the prior Antihazing Law – and further, did not show the Piazza Law was on the books when the alleged conduct took place, nor how the university or Franklin violated it.
As a result of Humphries allegedly failing to prove his negligence claims, the defendants believe his negligent infliction of emotional distress claim must likewise fail.
For multiple counts of negligence per se (violation of anti-hazing statutes), assault and battery, negligent infliction of emotional distress, intentional infliction of emotional distress and civil conspiracy, the plaintiff is seeking joint and several judgment against the defendants, unspecified compensatory, exemplary and pre-judgment delay damages, plus interest, further relief as the Court may deem appropriate and a trial by jury.
The plaintiff is represented by Steven F. Marino and Joseph Auddino of Marino Associates, in Philadelphia.
The defendants are represented by Carol Steinour Young, James P. DeAngelo and Sarah Hyser-Staub of McNees Wallace & Nurick in Harrisburg, plus James S. Urban, Katherine J. McLay and Matthew A. Kairis of Jones Day in Pittsburgh and Houston, Texas.
U.S. District Court for the Middle District of Pennsylvania case 4:20-cv-00064
From the Pennsylvania Record: Reach Courts Reporter Nicholas Malfitano at nick.malfitano@therecordinc.com