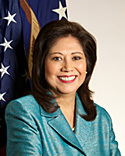 A former industrial hygienist at the Occupation Safety and Health Administration has filed a federal complaint against the secretary for the United States Department of Labor, alleging she was forced into retirement three years ago after she lodged a number of complaints against the agency.

Lafayette Hill, Pa. attorney William G. Blasdel, Jr. filed the civil action Oct. 13 at the U.S. District Court for the Eastern District of Pennsylvania on behalf of Camden County, N.J. resident Chrysoula J. Komis, who worked at OSHA's Philadelphia office.

The defendant listed in the case is U.S. Department of Labor Secretary Hilda L. Solis.

According to the complaint, Komis, a Ph.D.-level employee who worked for OSHA from August 2003 until her alleged "forced" retirement in September 2008, had complained of being singled out by the agency for unfavorable decisions and assignments. She also claims that her employer failed to offer her benefits granted to other OSHA employees, "that taken together were retaliatory and/or created a hostile work environment."

From a period between October 2006 through September 2008, the lawsuit states, which coincided with the time period in which four Equal Employment Opportunity Commission complaints were filed by Komis, the plaintiff was subjected to an ongoing course of retaliatory conduct by past and present employees of the agency.

The activity, Komis claims in her suit, "continues to cause her harm through indiscriminate and/or intentional disclosure of protected and confidential information relating to her discrimination and EEOC complaints."

The retaliatory acts on the part of her employer included assigning Komis clerical work, for which she was unsuited and untrained for, the lawsuit claims.

The suit claims that during the EEOC hearing process, an "extraordinary amount" of time was expended on the agency's objections to discovery, and that the lack of discovery, which is material to this litigation, made it impossible for Komis to "meaningfully comply with the mandate of this Court that she exhaust administrative remedies on the merits."

The filing doesn't state the specific reasons for Komis's original complaints against her company, which were the supposed basis for her lodging the EEOC charges that led to this latest civil action.

Through her complaint, Komis seeks reinstatement, as well as unspecified compensatory and punitive damages, attorney's fees and related court costs.

A jury trial is being demanded.

The federal case number is 2:11-cv-06393-PD.