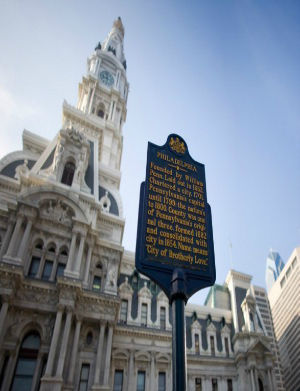 Philadelphia City Hall
PHILADELPHIA – Plaintiff counsel in a motor vehicle accident case wants his client to authorize the distribution of $1,800 in settlement funds that have already been received from the defendants in that action.
Marc F. Greenfield of Spear, Greenfield & Richman filed a motion to enforce settlement in the Philadelphia County Court of Common Pleas on May 28, explaining his client, Sean Thomas of Philadelphia, had not signed a Schedule of Distribution to release the $1,800. Those funds were determined by a jury on Oct. 21, 2011, and represent court costs for the plaintiff counsel's firm.
The funds in question had been received from defendants Santa Chiavatti and Carla Thomas, but had not been distributed in the absence of Sean Thomas's signature of a Schedule of Distribution. Therefore, Greenfield's motion was for the Court to grant an instant petition allowing the immediate distribution of the $1,800.
A hearing in the matter was set for Thursday in Court chambers at Philadelphia City Hall.
Sean Thomas filed suit against Chiavatti and Carla Thomas back in June 2010, in connection with a motor vehicle accident that took place earlier that year.
On Jan. 19, 2010, Sean Thomas was a passenger in a car driving at the intersection of 13th & Christian Streets, when Chiavatti allegedly drove in a negligent and reckless manner, and as a result, caused a crash which left Sean Thomas with severe injuries.
Sean Thomas suffered sprain and strain of his entire spine, right shoulder, L3-L4 and L4-L5 disc herniation, L1-L2 and L2-L3 lumbar disc bulges, and other injuries. The plaintiff further incurred medical costs in excess of injury protection benefits afforded by both the Pennsylvania Motor Vehicle Financial Responsibility Law and Workers' Compensation.
The plaintiff is seeking in excess of $50,000, plus attorney's fees, costs and other relief.
The plaintiff is represented by Greenfield, of Spear, Greenfield & Richman, in Media.
The defendant is represented by Matthew J. Noble of Marshall, Dennehey, Warner Coleman & Goggin, in Philadelphia, James M. Alexander in Conshohocken, Matthew C. Stone of Stone & Stone in Parkside and Kevin R. McNulty of Gerolamo McNulty Divis & Lewbart in Philadelphia.
Philadelphia County Court of Common Pleas case 100601675
From the Pennsylvania Record: Reach Courts Reporter Nicholas Malfitano at nickpennrecord@gmail.com