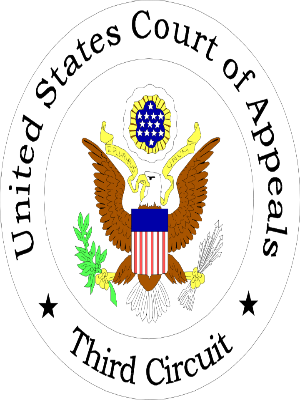 U.S. Court of Appeals for the Third Circuit
PHILADELPHIA – On Wednesday, the U.S. Court of Appeals for the Third Circuit affirmed a trial court's dismissal of a discrimination lawsuit filed by a military veteran and business owner against the small business banking departments of two major national banks.
In a per curiam opinion, judges D. Michael Fisher, Kent A. Jordan and Thomas I. Vanaskie ruled to uphold the U.S. District Court for the Eastern District of Pennsylvania's dismissal of plaintiff Waliyyuddin Abdullah's suit against the defendants, Bank of America and Wells Fargo Bank's small business banking departments.
In February, Abdullah filed a complaint in the Philadelphia County Court of Common Pleas, which the defendants removed to the U.S. District Court. In his complaint, Abdullah alleged the defendants violated his civil rights under the Pennsylvania Human Relations Act (PHRA), when they discriminated against him and refused to grant him a small business loan.
Court records show the lawsuit Abdullah filed in February was his fourth centering on the refusal of the defendants to extend him a loan, as the previous three suits were dismissed by the U.S. District Court for failure to state a claim.
Abdullah filed a motion to remand the matter to state court, claiming the defendants' removal had been untimely and that he did not assert a federal claim. The defendants opposed this remand motion and additionally filed a motion to dismiss. Due to Abdullah's lack of response to the motion, the District Court granted the defendants' dismissal of the suit. Abdullah then filed a timely notice of appeal to the Third Circuit.
However, the Third Circuit declared the claims in Abdullah's litigation were "plainly barred" through claim preclusion.
The federal appeals court stated the doctrine of claim preclusion bars a suit where there has been: "A final judgment on the merits in a prior suit involving the same parties or their privies and a subsequent suit based on the same cause of action."
"Those factors are satisfied here, where the District Court has previously dismissed the same allegations against the same defendants for failure to state a claim," the Third Circuit said. "While Abdullah now asserts a new legal theory, he could have presented that theory in a previous complaint, and the claim is therefore barred."
The Third Circuit then affirmed the trial court's dismissal of Abdullah's suit.
"We will affirm the District Court's judgment. The District Court here dismissed Abdullah's complaint due to his failure to comply with a local rule requiring parties to file briefs registering their opposition to any motion," the Third Circuit added.
The plaintiff represented himself in this matter.
The defendants are represented by Jenai St. Hill of Reed Smith, in Philadelphia.
U.S. Court of Appeals for the Third Circuit case 15-2189
U.S. District Court for the Eastern District of Pennsylvania case 2:15-cv-01196
From the Pennsylvania Record: Reach Courts Reporter Nicholas Malfitano at nickpennrecord@gmail.com