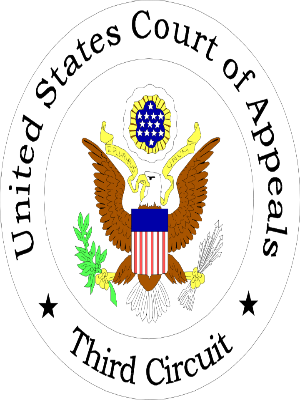 U.S. Court of Appeals for the Third Circuit
PHILADELPHIA – A federal appeals court has ruled against a pair of attorneys who filed suit for age discrimination, based on a supposed lack of pretextual evidence.
Edward J. Gallen and Robert Miller's suit alleging age-based discrimination against the Chester County District Attorney's Office and Chester County, came before U.S. Court of Appeals for the Third Circuit judges Theodore A. McKee, Thomas L. Ambro and Anthony J. Scirica, who ruled Monday to dismiss the suit on evidentiary grounds.
Gallen and Miller began working for the District Attorney's Office in 2000 and 1988, respectively. In November 2011, a new District Attorney named Tom Hogan was elected in Chester County, who had been a past colleague of the plaintiffs.
According to the suit, Hogan asked the District Attorney's Office the following month to prepare termination paperwork for six employees, including Gallen and Miller. In early January 2012, Hogan interviewed all the lawyers in the office and, on Jan. 12, 2012, he fired Gallen (then age 65) and Miller (then age 57).
Later that same month, Hogan made statements in the press to the effect that he planned to "reorganize the District Attorney's Office and establish a modern prosecutor's office."
Gallen and Miller sued, alleging violations of the Age Discrimination in Employment Act (ADEA) and the Pennsylvania Human Relations Act (PHRA). The District Court later granted the defendants' motion for summary judgment against Gallen and Miller on all counts, leading the plaintiffs to appeal.
In the District Court's decision, it believed Gallen and Miller established a prima facie age discrimination case, but that the Chester County District Attorney's Office also provided "a legitimate, nondiscriminatory reason for the employment decision", this being the plaintiffs' perceived unsatisfactory job performance.
This resulted in the burden of proof shifting back to Gallen and Miller to illustrate pretextual evidence of the discrimination in question, which the District Court felt they failed to do.
Ambro said such evidence had to be, "Direct or circumstantial, from which a factfinder could reasonably either (1) disbelieve the employer's articulated legitimate reasons…or (2) Believe that an invidious discriminatory reason was more likely than not a motivating or determinative cause of the employer's action."
"As the District Court noted, however, Hogan was already familiar with their performance on the job. For example, he was unimpressed with Miller's performance on a murder case on which the two had worked together, and he was dissatisfied with Gallen's responsiveness in cases dating back to Hogan's time in private practice," Ambro said.
Further, Ambro stated Hogan consulted members of his transition team about Gallen and Miller's job performance and did not finalize his decision until after assuming office and interviewing them.
Ambro continued that Hogan's remark about "modernizing" the District Attorney's Office could not be inferred to mean age discrimination, or be evidence of discriminatory animus.
"Gallen and Miller also cite the ages of the attorneys Hogan fired and those he hired as direct evidence of age discrimination. He fired four Assistant District Attorneys in their 50s and 60s and hired five younger attorneys in ages ranging from 27 to 42," Ambro said.
"While on the surface this has appeal, on digging further we agree with the District Court that this evidence falls short of demonstrating that age discrimination was more likely than not a motivating factor in Hogan's employment decisions," Ambro added.
Ambro explained the plaintiffs failed to present evidence of the qualifications of the applicant pool from which Hogan selected new attorneys, and minus evidence to suggest that Hogan overlooked more experienced, but older attorneys for these positions, the Third Circuit would not infer age discrimination from mere age comparison statistics.
"For instance, we know that two of the new hires had previously served in the District Attorney's Office and had extensive experience prosecuting criminal cases," Ambro said. "Finally, two of the new hires were members of the same protected class (those over 40 years old) that was allegedly targeted for discrimination."
Ambro concluded by affirming the District Court's decision and entering summary judgment against Gallen and Miller.
The appellants are represented by John A. Gallagher of Gallagher Law Group, in Berwyn.
The appellees are represented by Joseph Goldberg, Jamie L. Panzer and Michael B. Pullano of Weber Gallagher Simpson Stapleton Fires & Newby in Philadelphia, plus Amy Z. Snyder, Ryan J. Cassidy and Renee C. Mattei Myers of Eckert Seamans Cherin Mellott, in both Philadelphia and Harrisburg.
U.S. Court of Appeals for the Third Circuit case 15-1557
U.S. District Court for the Eastern District of Pennsylvania case 2:13-cv-03245
From the Pennsylvania Record: Reach Courts Reporter Nicholas Malfitano at nickpennrecord@gmail.com