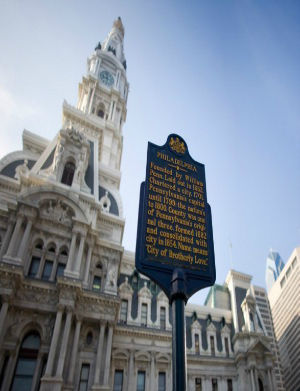 Philadelphia City Hall
PHILADELPHIA – The City of Philadelphia says it is pursuing the recovery of delinquent water and sewer rents from a West Philadelphia-based business entity.
Divisional Deputy City Solicitor James J. Zwolak filed an amended tax claim on Jan. 14, 2015, alleging a property on the 4100 block of Parkside Avenue was delinquent on water and sewer rent payments – and that it needed to answer the claim within 15 days or a sheriff's sale may be scheduled.
The claim outlined $114,927.90 in water and sewer rent payments, a number of municipal liens on the property totaling $204,439.65 and judgments on the property totaling $886,088.49.
In July 2015, Judge Linda A. Carpenter ordered the Parkside Avenue property sold at sheriff's sale, due to delinquent real estate taxes.
In September 2015, defense counsel James T. DiMarco filed an answer to the claim, alleging his client attempted to contact both the City and the Philadelphia Water Department to resolve the claims, to no avail.
Further, DiMarco said his client reached a settlement agreement with the City for $6,349.51 on May 7, 2015, and the City's filing of the tax claim constituted a breach of the settlement in question.
The settlement payment covered water billing periods from November 2014 to April 2015, with $3,174.75 due on or before May 22, 2015 and six monthly payments of $529.13 due on or before the 22nd of every month thereafter, to the Revenue Collection Bureau, Inc. – Water Revenue Bureau.
DiMarco further disputed the amount calculated by the City in their original claims.
A hearing in this matter was set for this past Wednesday in Court chambers at Philadelphia City Hall, but Judge Linda Carpenter continued the hearing until June 15.
The plaintiff is represented by Zwolak and Jon-Michael Olson of the City of Philadelphia's Law Department.
The defendant is represented by DiMarco and Matthew A. Lipman of McElroy Deutsch Mulvaney & Carpenter, also in Philadelphia.
Philadelphia County Court of Common Pleas case 1501T0282
From the Pennsylvania Record: Reach Courts Reporter Nicholas Malfitano at nickpennrecord@gmail.com