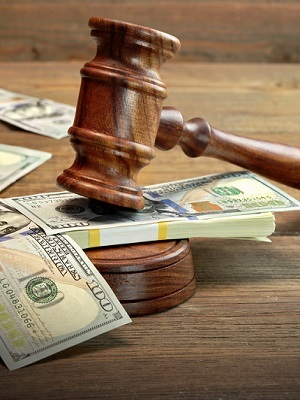 U.S. District Court for the Eastern District of Pennsylvania
PHILADELPHIA – A federal court ruled Monday an insurance company did not act in bad faith, undervalue or refuse to settle a policyholder's underinsured motorist (UIM) claim after an accident in 2011.
According to Judge Stewart L. Dalzell of the U.S. District Court for the Eastern District of Pennsylvania, United Financial Casualty Company was entitled to summary judgment on the bad faith claim brought by William Murphy.
United insured Murphy's Ford F-150 truck and provided for $300,000 in UIM coverage. On Oct. 25, 2011, Murphy was driving his truck when he was suffered serious back and shoulder injuries in a motor vehicle accident.
Murphy had follow-up surgery on his left shoulder to treat these injuries.
Murphy submitted his claim for UIM benefits on May 18, 2012, and four days later, his counsel notified United's claims adjuster that Murphy had settled his bodily injury claim against the tortfeasor for $15,000. Due to both his ongoing medical treatment and an evaluation process of medical records associated with Murphy, settlement talks did not take place during 2012 or 2013.
Throughout 2014 and 2015, Murphy's counsel and United's counsel/claims adjuster disagreed on a suitable settlement offer, subsequent to the results of an independent medical examination (IME) which determined some of Murphy's injuries pre-dated the accident. Where United wanted to settle the case for $83,000, Murphy submitted a request for $250,000 – when United raised its offer to $87,000, Murphy followed up with a second counter-offer for $190,000.
Murphy then sued United in state court, and United opted to remove the case to the District Court.
"Murphy first asserts that his bad faith claim is sustained by United's unreasonable delay in processing his claim, but we disagree. To be sure, an insurance company's unreasonable delay can be considered a bad faith insurance practice under Pennsylvania law," Dalzell explained.
But, Dalzell added, "A long period of delay between demand and settlement does not, on its own, necessarily constitute bad faith."
Dalzell said for Murphy to succeed on his bad faith by delay claim, he would need to show United as being responsible for the delay, that United had no reasonable basis for the delay and that United knew or disregarded the fact it had no reasonable basis to deny payment.
"These facts do not evidence an unreasonable delay constituting bad faith. United took steps to thoroughly investigate Murphy's claim, and these steps were reasonable given the peculiar circumstances Murphy's medical conditions presented," Dalzell said.
"Moreover, Murphy's failure to attend an IME scheduled in August of 2014 contributed to United's delay in making a settlement offer. We therefore hold that a reasonable jury could not find that the delay between Murphy's filing of his claim and United's initial settlement offer establishes bad faith," Dalzell added.
Dalzell said though Murphy argued United "acted in bad faith when it offered him what he characterizes as a series of unreasonable settlement offers," the District Court again found no evidence of bad faith.
"Murphy argues that United's actions were made in bad faith because the claims adjuster refused to offer the full amount of her settlement authority, in this case $101,000," Dalzell stated. "He further avers that the claims adjuster attempted to mislead him as to what the full value of her settlement authority was."
"First, Murphy cites, and we have found, no authority to support his position that a claims adjuster is obligated to offer the full amount of her settlement authority," Dalzell said. "Second, we do not read the claims adjuster's email to represent that her offer of $87,000 is the maximum value of her settlement authority. She did, in fact, have full authority to offer $87,000, much like she had full authority to offer anywhere between $83,000 and $101,000."
Dalzell said Murphy failed to satisfy either prong of Pennsylvania's bad faith test in his contentions (when he needed to prove both), and granted United's motion.
"Murphy's bad faith claim has no merit, as both his unreasonable delay and unreasonable settlement offer theories fail upon close inspection," Dalzell said. "We will therefore grant United's motion for summary judgment, enter judgment in favor of United and against William Murphy, and close this case."
The plaintiff is represented by Thomas J. Bass in Philadelphia.
The defendant is represented by Daniel J. Twilla of Burns White in Pittsburgh, and Karl L. Stefan of Forry Ullman, in King of Prussia.
U.S. District Court for the Eastern District of Pennsylvania case 2:15-cv-04199
From the Pennsylvania Record: Reach Courts Reporter Nicholas Malfitano at nickpennrecord@gmail.com