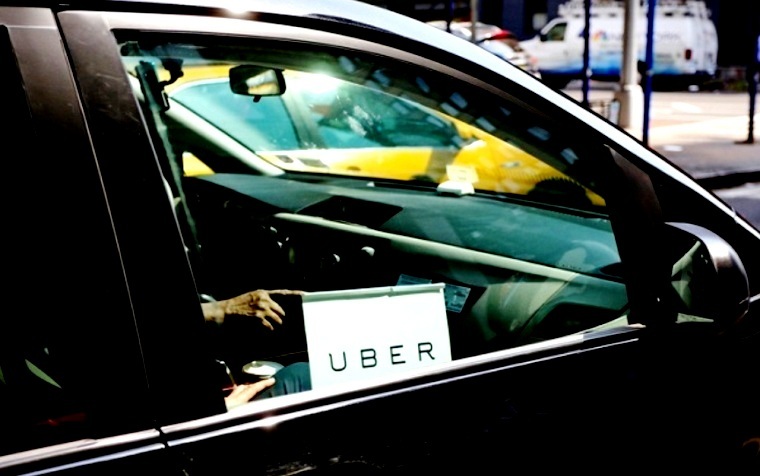 Uber, Inc.
PHILADELPHIA – An Uber passenger from Montgomery County who says she was left stranded on the Pennsylvania Turnpike by her allegedly-impaired and "deranged" driver is taking the popular ride-hailing mobile app and the driver in question to court.
Carla Guzman of Abington filed suit in the Philadelphia County Court of Common Pleas on Jan. 12 versus Uber Technologies, Inc. of San Francisco, Raiser-PA, LLC of Philadelphia (both entities collectively do business as "Uber") and a Jane Doe driver identified only as "Rachel."
The suit states on June 21, Guzman scheduled an Uber vehicle to pick her up in Abington at 4:20 a.m., in order to transport her to Philadelphia International Airport for a business trip. Guzman claims her driver Rachel was several minutes late in meeting her, and says she noticed the car's messy condition, strong cigarette odor and the driver's disheveled appearance when stowing her luggage in the vehicle's trunk.
Though initially attempting to make small talk with Rachel in the ride's opening minutes, Guzman explained she took further note of the driver's bloodshot eyes, apparent disorientation and slurred speech, the suit claims.
Rachel allegedly chose to take a longer, indirect route to Philadelphia International Airport, seemingly to avoid toll roads. The complaint says Rachel also drove unusually slowly and repeatedly switched lanes.
When Guzman suggested taking the Pennsylvania Turnpike, a quicker route, Rachel did so – but according to the suit, became "deranged" and expressed anger over Guzman's request due to her not possessing an E-Z Pass for tolls (despite Uber automatically adding toll costs to a passenger's fare through its app), plus the prospect of law enforcement stopping and searching her vehicle.
At that point, Guzman allegedly attempted to defuse the situation by offering to cover any costs Rachel would incur from tolls. In response, Rachel allegedly demanded the money immediately or threatened to leave Guzman on the side of the Pennsylvania Turnpike.
Despite Guzman paying a $41.05 fine for Rachel soon after that at a nearby tollbooth, due to the driver not having an E-Z Pass, the lawsuit says Rachel became further incensed, screaming and cursing at Guzman and again threatening to leave her on the side of the road.
Though Guzman found a safe location in the vicinity at which to be dropped off, she alleges Rachel instead deposited her on the Exit 339 ramp leading to PA-Route 309 outside Fort Washington at 4:47 a.m., luggage in tow, and drove off.
Guzman's lawsuit claims she was forced to walk on the ramp, with cars speeding by right next to her, along with her luggage for a full quarter-mile. Guzman then observed a Best Western Hotel on the other side of a tall fence, which she says left her with no other choice than to toss her luggage over the fence, scale the fence, collect her luggage and walk to the hotel.
Hailing a standard taxi cab from the hotel at just after 5 a.m., Guzman later arrived at Philadelphia International Airport after missing her flight and says she suffered an emotional breakdown.
The plaintiff also alleged that Uber initially ignored her reports of the harrowing incident or inquiries as to whether Rachel's driver status had been suspended or banned, and failed to reimburse her for the $41.05 toll fine she paid for Rachel on the Pennsylvania Turnpike.
However, Guzman added a company representative credited the toll cost to her Uber account soon afterwards as a "one-time exception."
Guzman's suit also criticized what she feels are the company's unsatisfactory safety and negligent hiring practices, charging it with not investigating prospective Uber drivers thoroughly enough.
As proof of that assertion, Guzman referenced Uber's $28.5 million settlement of a class-action lawsuit connected to similar claims in a California federal court, in February 2016.
Uber declined comment on the case.
Guzman states she filed a report regarding the incident on Aug. 28 with the Public Utility Commission and added she only learned the driver Rachel was suspended from the ride-hailing service through notice provided by Uber's attorney in response to that same complaint, months later.
For counts of negligence, negligent hiring/supervision/retention, fraud, negligent misrepresentation, violation of the Unfair Trade Practices and Consumer Protection Law and intentional infliction of emotional distress, the plaintiff is seeking an award of damages in an amount to be determined at trial, plus pre-judgment interest, punitive damages, costs, reasonable attorney's fees, expenses, and such other and further relief as the Court may deem just and proper, in addition to a trial by jury.
The plaintiff is represented by Matthew A. Luber of McOmber & McOmber, in Marlton, N.J.
Philadelphia County Court of Common Pleas case 180102233
From the Pennsylvania Record: Reach Courts Reporter Nicholas Malfitano at nickpennrecord@gmail.com